---
RocknRolla (2008)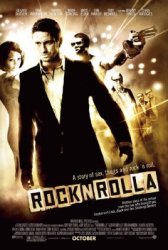 Starring: Gerard Butler, Tom Wilkinson, Thandie Newton, Mark Strong, Idris Elba, Tom Hardy, Toby Kebbell, Jeremy Piven
Director: Guy Ritchie
Release Date:

October 31st, 2008
Release Date:

5th September, 2008
Synopsis: When a Russian mobster orchestrates a crooked land deal, millions of dollars are up for grabs, and all of London's criminal underworld wants in on the action. Everyone from a dangerous crime lord to a sexy accountant, a corrupt politician and down-on-their-luck petty thieves conspire, collude and collide with one another in an effort to get rich quick.
Status:
About the Movie
RocknRolla is a 2008 British crime film written and directed by Guy Ritchie, and starring Gerard Butler, Thandie Newton, Idris Elba and Tom Wilkinson.
It was filmed in London and released on 5 September 2008 in the United Kingdom, hitting #1 in the UK box office in its first week of release.
---
Movie Reviews
Movie Review by Marty Meltz
Quality – 7 out of 10
Harsh! Depressing. A clear alternative to hope and joy.
In this stylist British crime thriller, with relentless powerhouse images of dark contrast, each and every one of them designed to keep your head off balance, the film takes you from one den and gathering of menacing men and potentially mortal situation to the next. The sheer variety of human scum is impressive. The characters speak only in fluent threats, visceral anger and monumental greed in purpose.
This is a world of deadly situations and total moral degeneracy framed in photography and editing that blasts you with unendingly foreboding shadows, offbeat hues, angles, close-ups and compositions of mercilessly somber content that incessantly feel filthy.
The film is, however, suspense less, without an appealing character to hook onto, and without any convincing point. It plays with pressure-cooked imagery of ugly motives as though that's a goal in itself. And the plot is very difficult to follow.
"One Two" (Gerald Butler), a small-time hustler, looks to the booming London real-estate market for quick riches. His cohorts will be Mumbles (Idris Elba) and Handsome Bob (Tom Hardy). One Two begins his speculative venture by taking out a loan from Lenny Cole (Tom Wilkinson), a ruthless crime boss who kills on a whim. But once Cole is onto One Two's profit game, he angles to grab the property himself and still get One Two to pay off the loan. In order to get the money, One Two and crew will have to sign on to the illegal schemes of crooked big-time accountant Stella (Thandie Newton) who in turn works for the evil Russian billionaire Uri Obamavich (Karel Roden).
To complicate matters further, there's Archy (Mark Strong), who's Lenny's fiercely loyal right-hand man, and then Roman (Jeremy Piven) and Mickey (Chris "Ludacris" Bridges). And now there are American rock promoters who are unintentionally mixed into a hunt for a stolen painting. There's also Johnny Quid (Toby Kebbell), a punk rocker who just happens to be the black-sheep stepson of Lenny Cole.
Got all that? Well, the film apparently, judging by its explosive images and nonstop rock hard portrayals, doesn't even care. Give it a decent rating, however. It is film art.

Read More Movie Reviews at Marty at the Movies
---
'RocknRolla' Stars
Gerard Butler, Guy Ritchie, Idris Elba, Jeremy Piven, Mark Strong, Thandie Newton, Toby Kebbell, Tom Hardy, Tom Wilkinson
---
'RocknRolla' Movie Links

Official RocknRolla Movie Website


RocknRolla on IMDb