---
Cherrybomb (2009)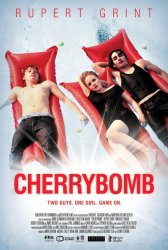 Starring: Rupert Grint, Robert Sheehan, Kimberley Nixon, Kathy Kiera Clarke, Greer Ellison
Director: Lisa Barros D'Sa, Glenn Leyburn
Release Date:

23rd April, 2010
Synopsis: Cherry Bomb follows teenagers Luke, Malachy, and Michelle as they embark on a wild weekend of drink, drugs, shop-lifting and stealing cars. But what starts out as a game turns deadly serious when the three discover that they can't get off the wild ride they've set in motion.
Status:
About the Movie
Cherrybomb is an upcoming drama film set to be released in the United Kingdom in 2010. Rupert Grint will star in the movie. Filming began on location in Belfast on 7 July 2008, and lasted four weeks. The film involves nudity, drinking, drugs, shop-lifting and stealing cars.
Cherrybomb premiered at the 2009 Berlin Film Festival, but was initially unable to find a distributor. An online campaign by Grint's fans was credited with helping to secure a deal for distribution in the United Kingdom.
It had been given a UK release date of April 23rd 2010.
---
'Cherrybomb' Stars
Glenn Leyburn, Greer Ellison, Kathy Kiera Clarke, Kimberley Nixon, Lisa Barros D'Sa, Robert Sheehan, Rupert Grint
---
'Cherrybomb' Movie Links

Cherrybomb on IMDb