---
Dance Flick (2009)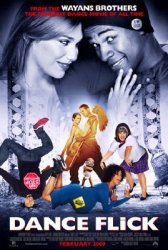 Starring: Shoshana Bush, Chelsea Makela, Shawn Wayans, Marlon Wayans, Kim Wayans, Keenen Ivory Wayans, Craig Wayans
Director: Damien Wayans
Release Date:

May 22nd, 2009
Release Date:

21st August, 2009
Synopsis: A comedy about a rich, suburban white girl named Tracy Transfat who gets into a series of misadventures when she moves to the inner-city. Street-smart Thomas helps her along the way. Also Jonathan Aguilar Perez tries to compete in a dance contest however he was no good.
Status:
Dance Flick Movie Trailer
About the Movie
Dance Flick is an upcoming 2009 American parody film directed by Damien Dante Wayans, written by his uncles, the Wayans Brothers, and starring Shoshana Bush and Damon Wayans, Jr.. The film is a spoof of the popular dance film genre. It was set for release in North America on February 6, 2009, but was moved to August 14, 2009. It is now set to be released on May 22, 2009.
---
'Dance Flick' Stars
Chelsea Makela, Craig Wayans, Damien Wayans, Keenen Ivory Wayans, Kim Wayans, Marlon Wayans, Shawn Wayans, Shoshana Bush
---
'Dance Flick' Movie Links

Dance Flick on IMDb