---
Dark Shadows (2012)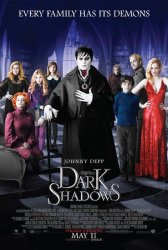 Starring: Johnny Depp, Michelle Pfeiffer, Helena Bonham Carter, Eva Green, Jackie Earle Haley, Jonny Lee Miller, Bella Heathcote, Chloë Grace Moretz
Director: Tim Burton
Release Date:

May 11th, 2012
Release Date:

11th May, 2012
Running Time: 113 Mins
Synopsis: An imprisoned vampire, Barnabas Collins, is set free and returns to his ancestral home, where his dysfunctional descendants are in need of his protection.
Status:
titlexxx - Dark Shadows Movie Trailer
About the Movie
Dark Shadows is a 2012 American horror comedy film, based on the gothic soap opera of the same name that was produced for television between 1966 and 1971. The film is directed by Tim Burton and stars Johnny Depp as Barnabas Collins, a 200-year-old vampire who has been imprisoned in a coffin. Collins is eventually unearthed and makes his way back to his mansion, now inhabited by his dysfunctional descendants. Collins also discovers that his jealous ex-lover, Angelique Bouchard, played by Eva Green, has taken over the town's fishing business that was once run by the Collins family (Bouchard is a witch who was responsible for transforming Collins into a vampire). Michelle Pfeiffer also stars as Collins' cousin, Elizabeth Collins Stoddard, the reclusive matriarch of the Collins family.
The film had a limited release on May 10, 2012, and was officially released the following day in the United States.
The film was a substantial box office success, making over $236 million, but received mixed reviews from critics, many of whom praised its visual style, but felt it lacked a focused or substantial plot and developed characters. The film marks Richard D. Zanuck's last as producer; he died on July 13, 2012. It also featured the final film appearance of original series actor Jonathan Frid, who died before Zanuck on April 14. He shared a cameo in the movie with former co-stars Kathryn Leigh Scott, David Selby, and Lara Parker.
---
'Dark Shadows' Stars
Bella Heathcote, Chloë Grace Moretz, Eva Green, Helena Bonham Carter, Jackie Earle Haley, Johnny Depp, Jonny Lee Miller, Michelle Pfeiffer, Tim Burton
---
'Dark Shadows' Movie Links

Dark Shadows on IMDb


Dark Shadows on Wikipedia