---
Platoon (1986)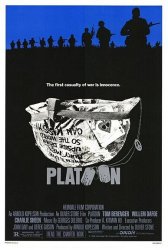 Starring: Tom Berenger, Willem Dafoe, Charlie Sheen, Forest Whitaker, Francesco Quinn, John C. McGinley, Kevin Dillon, Keith David, Johnny Depp
Director: Oliver Stone
Release Date:

December 24th, 1986
Release Date:

24th April, 1987
Synopsis: Chris Taylor is a young, naive American who gives up college and volunteers for combat in Vietnam. Upon arrival, he quickly discovers that his presence is quite nonessential, and is considered insignificant to the other soldiers, as he has not fought for as long as the rest of them and felt the effects of combat. Chris has two commanding officers, the ill-tempered and indestructible Staff Sergeant Robert Barnes and the more pleasant and cooperative Sergeant Elias Grodin. As the war continues, Chris himself draws towards psychological meltdown. And as he struggles for survival, he soon realizes he is fighting two battles, the conflict with the enemy and the conflict between the men within his platoon.
Status:
About the Movie
Platoon is a 1986 war film written and directed by Oliver Stone and starring Tom Berenger, Willem Dafoe and Charlie Sheen, with an early appearance of Forest Whitaker and a small supporting turn from Johnny Depp. It is the first of Stone's Vietnam War trilogy, followed by 1989′s Born on the Fourth of July and 1993′s Heaven & Earth.
Stone wrote the story based upon his experiences as a U.S. infantryman in Vietnam, as a counter to the vision of the war portrayed in John Wayne's The Green Berets. The film won the Academy Award for Best Picture of 1986. In 2007, the American Film Institute placed Platoon at #83 in their "100 Years…100 Movies" poll. British television channel Channel 4 voted Platoon as the 6th greatest war film ever made, behind Full Metal Jacket and ahead of A Bridge Too Far.
---
'Platoon' Stars
Charlie Sheen, Forest Whitaker, Francesco Quinn, John C. McGinley, Johnny Depp, Keith David, Kevin Dillon, Oliver Stone, Tom Berenger, Willem Dafoe
---
'Platoon' Movie Links

Platoon on IMDb