---
Defiance (2008)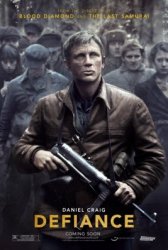 Starring: Daniel Craig, Liev Schreiber, Jamie Bell, George MacKay
Director: Edward Zwick
Release Date:

January 16th, 2009
Release Date:

9th January, 2009
Synopsis: Three Jewish brothers escape from Nazi-occupied Poland into the Belarussian forest, where they join Russian resistance fighters and endeavor to build a village in order to protect themselves and others in danger.
Status:
About the Movie
Defiance is a 2008 war film written, produced, and directed by Edward Zwick, set during the occupation of Belarus by Nazi Germany. The film is an account of the Bielski partisans, a group led by four Jewish brothers who saved and recruited Jews in the Kresy region of Poland during the Second World War. The film stars Daniel Craig as Tuvia Bielski, Liev Schreiber as Zus Bielski, Jamie Bell as Asael Bielski, and George MacKay as Aron Bielski.
Production began in early September 2007 and had a limited release in the United States on December 31, 2008. It went into general release worldwide on January 16, 2009 and was released on home media on June 2, 2009. The film was an adaptation of Nechama Tec's book Defiance: The Bielski Partisans.
---
Movie Reviews
Movie Review by Marty Meltz
Quality – 7 out of 10
Amazing true story. All it needs is the power-actors and situations. "Defiance" has them.
As long as the film homes in on its story's own unique crises and survival urgencies, it's a gripper. But when it strays into generic situations that could have been drawn from formula war pictures, it grinds to a halt.
Mercifully, the sentimentality is slight and forgivable. More importantly, however, is the natural suspense and tension that fires up organically between people facing life-and-death crises. It is the cruelty in people's choices of resolving problems between them — and, indeed, their failure to own the fact that a choice is precisely what it is — that is so moving. There are the details of family and community as individuals are faced with horrendous decisions of survival even as they are hunted down like beasts.
The film stays old-timey conventional in its style. Human courage and indomitable hope is indestructible, says the theme. What you call desperation in your own life is not even in the same universe with the excruciating decisions here told.
Yes, things cinematically do get somewhat ordinary toward the ending but the final battle is strong.
The Holocaust-themed film, based on the true story from the book, "The Bielski Partisans." is set in the current-day Belarus (Belarussia at that time), located between Poland and Russia. Set in 1941, well into World War II, into the forest flee three Jewish brothers who have just discovered that the invading Germans have stormed their parents' farmhouse and killed them.
The siblings possess a priceless advantage over their pursuers in knowing every square foot of the surrounding woods and hills. Soon enough, they will attract a virtual community of Jews who have also fled (by war's end, in fact, 1200 will have survived).
Among the brothers is hot-headed Zus (Liev Scheiber) for whom life is only about "an eye for an eye." Firing his spirit of revenge is his boiling resentment for upper-class Jews who, until now, had looked at his family with class contempt. His brother is Tuvia (Daniel Craig), a smuggler by trade who is returning to what he had thought would be his waiting family. Their young and tender brother — although tender not for long — is Asael (Jamie Bell).
Tuvia successfully executes his first mission by killing the local police chief who murdered his father, but then swears off the revenge way of life. Zus doesn't exactly see it that way; he'll go for guerrilla tactics to wipe out Nazi collaborators and army personnel.
The community builds in this isolated camp, with commune-type existence. Numbers may have some advantages but they also have the downside of increasing the risk of discovery. There are religious figures and, more importantly, romance interests: Tuvia's attraction (Alexa Davalos), Zus ' (Iben Hjejle) and Asael's (Mia Wasikowska).
A rivalry of leadership arises between Tuvia and Zus, upon which time Zus decides to abandon the group so to join a brigade of Russian resistance fighters in a nearby encampment.
Winter now casts its pall, food supplies are desperataly low. Many conjecture as to whether life may have been better back in the ghetto.

Read More Movie Reviews at Marty at the Movies
---
'Defiance' Stars
Daniel Craig, Edward Zwick, George MacKay, Jamie Bell, Liev Schreiber
---
'Defiance' Movie Links

Official Defiance Movie Website


Defiance on IMDb