---
Salt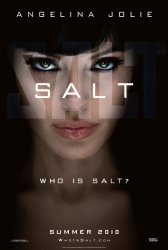 Starring: Angelina Jolie, Liev Schreiber, Chiwetel Ejiofor, Zoe Lister Jones, Yara Shahidi, Gaius Charles, Victor Slezak
Director: Phillip Noyce
Release Date:

July 23rd, 2010
Release Date:

18th August, 2010
Synopsis: As a CIA officer, Evelyn Salt swore an oath to duty, honor and country. Her loyalty will be tested when a defector accuses her of being a Russian spy. Salt goes on the run, using all her skills and years of experience as a covert operative to elude capture. Salt's efforts to prove her innocence only serve to cast doubt on her motives, as the hunt to uncover the truth behind her identity continues and the question remains: "Who is Salt?"
Status:
About the Movie
Salt is an upcoming American action thriller film directed by Phillip Noyce, written by Kurt Wimmer and Brian Helgeland, and starring Angelina Jolie, Chiwetel Ejiofor, and Liev Schreiber. While Tom Cruise was initially secured for the lead, he was unable to commit to the role because of commitments to other projects, the script was ultimately rewritten for Jolie. Jolie plays Evelyn Salt, accused of being a KGB sleeper agent, on the run to try and clear her name.
Filming took place on location in Washington, DC and New York City between March and June 2009. During filming, Jolie suffered a minor head injury while shooting an action scene and was taken to hospital as a "precautionary measure", but was released the same day with no life-threatening injuries and filming was resumed. It is scheduled to be released in North America on July 23, 2010 and August 20, 2010 in the United Kingdom.
---
Movie Reviews
Movie Review from EmpireOnline.com

How Angelina Jolie and Phillip Noyce must have smiled inwardly and breathed a massive sigh of relief when the FBI finally managed to do something right and round up that group of, frankly, inept Russian sleeper spies back at the end of June. Because, until then, the concept of Salt — the thriller which reunites the director/star pairing some ten years after they first teamed up for The Bone Collector — seemed like a distant dream, a preposterous fantasy world, the sort of off-the-top-of-a-screenwriter's head nonsense that makes your dad shake his head on a Sunday afternoon viewing and mutter darkly, "That's far-fetched." After all, it revolves around the idea of Russian sleeper spies, buried deep within the upper echelons of American government, ready to shed their cover at a moment's notice and strike at the heart of the Great Satan.

Read the Full Movie Review at EmpireOnline.com
Movie Review from TotalFilm.com

Speaking to TF recently, director Phillip Noyce boiled down the appeal of Salt thus: "How much fun is it to see a man demolish 50 other tough guys?" [A shrug] "This much."
"How much fun is it to see a beautiful woman demolish 50 guys?" [Spreads arms wide open] "This much!"
He has a point. Albeit one that's been made before, most recently on the small screen, via the likes of JJ Abrams' Alias and James Cameron's Dark Angel. There are whispers of those shows in Salt's DNA (though to spell out in what ways may reveal a little too much…).

Read the Full Movie Review at TotalFilm.com
Movie Review from Hollywood.com

Salt, the propulsive new thriller from Phillip Noyce (Clear and Present Danger, Patriot Games), has been dubbed "Bourne with boobs," but that label isn't entirely accurate. In the role of Evelyn Salt, a CIA staffer hunted by her own agency after a Russian defector fingers her in a plot to murder Russia's president, Angelina Jolie keeps her two most potent weapons holstered, hidden under pantsuits and trenchcoats and the various other components of a super-spy wardrobe that proudly emphasizes function over flash.

Read the Full Movie Review at Hollywood.com
Movie Review from Guardian.co.uk

Phillip Noyce's neo-cold-war action thriller Salt – the title's conceivably inspired by Salt II – could well be this year's top summer movie. It's pacy, smart, subversive and knocked out with such verve and attack that you're not in the least bit bothered by how far-fetched it all is. Angelina Jolie plays the famously gender-bendered role originally earmarked for Tom Cruise, and here we might pause to consider this sexist world in which a similar transition would be unthinkable for The Expendables.

Read the Full Movie Review at Guardian.co.uk
Movie Review from TimeOut.com

It feels like Phillip Noyce's flavourless spy thriller has been precision-built as a femme-fronted riposte to the suits-and-boots male machismo of the Bond franchise. Taken in that context, you can't deny that it succeeds because it's every bit as dour, emotionless and nonsensical as 'Quantum of Solace'. Angelina Jolie adopts a licence to pout and a small ocean of hair dye as the slippery, indestructible Evelyn Salt. She's a svelte CIA operative married to a lovey-dovey arachnologist (aren't they all?) whose loyalty is thrown into question when the Cold War flares up again and she's implicated in a Russian conspiracy to have the US vapourised.

Read the Full Movie Review at TimeOut.com
Movie Review from Movies.com

There are movies that are like eating in a conceptual restaurant with odd ingredient pairings and lobster foam and flavored air. They disorient you and catch you off guard. You know you just had something great but you might not be sure what it was. Then there are the ones like meatloaf. No surprises but you're still happy. And then there are the garbagely delicious, too-stupid-to-go-anywhere-but-the-Wendys-drive-thru movies that are moronic and wrong, but that taste so good you walk out satisfied anyway. This one is has bacon, fake cheese, major seriousface and really greasy fries on the side.

Read the Full Movie Review at Movies.com
Movie Review from Telegraph.co.uk

Salt was meant to have been a showcase for Tom Cruise to flex his Mission: Impossible muscles, an espionage thriller in the spirit of the Bond movies and the Bourne trilogy. When he bailed, and the star of Lara Croft took his place, Phillip (Rabbit-Proof Fence, The Quiet American) Noyce's film was meant to confirm Angelina Jolie's status as the most kick-ass, A-list actress of her generation, one who could marry cool-as-ice sex appeal to ball-busting actionism.

Read the Full Movie Review at Telegraph.co.uk
---
'Salt' Stars
Angelina Jolie, Chiwetel Ejiofor, Gaius Charles, Liev Schreiber, Phillip Noyce, Victor Slezak, Yara Shahidi, Zoe Lister Jones
---
'Salt' Movie Links

Official Salt Movie Website


Salt on IMDb