---
Changeling (2008)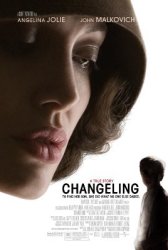 Starring: Angelina Jolie, Gattlin Griffith, Michelle Martin, Jan Devereaux, Michael Kelly, John Malkovich
Director: Clint Eastwood
Release Date:

October 31st, 2008
Release Date:

26th November, 2008
Synopsis: Inspired by actual events that occurred in 1920s-era Los Angeles, Clint Eastwood's "Changeling" tells the story of a woman driven to confront a corrupted LAPD after her abducted son is retrieved and she begins to suspect that the boy returned to her is not the same boy she gave birth to.
Status:
About the Movie
Changeling is a 2008 American drama film directed by Clint Eastwood and written by J. Michael Straczynski. Based on real life events in 1928 Los Angeles, the film stars Angelina Jolie as a woman who is reunited with her missing son—only to realize he is an impostor. She confronts the city authorities, who vilify her as an unfit mother and brand her delusional. The dramatized incident was connected to the "Wineville Chicken Coop" kidnapping and murder case. Changeling explores female disempowerment, political corruption, child endangerment and the repercussions of violence. Ron Howard intended to direct, but scheduling conflicts led to his replacement by Eastwood. Howard and Imagine Entertainment partner Brian Grazer produced, alongside Malpaso Productions' Robert Lorenz and Eastwood. Universal Pictures financed and distributed the film.
After hearing about the case from a contact at Los Angeles City Hall, Straczynski spent a year researching the historical record; he said he drew 95% of the script from around 6,000 pages of documentation. The shooting script was Straczynski's first draft and his first produced film screenplay. Several actors campaigned for the lead; Eastwood cast Jolie partly because he felt her face fit the period setting. The film also stars Jeffrey Donovan, Jason Butler Harner, John Malkovich, Michael Kelly, and Amy Ryan. Most of the characters were based on real life people, while some were composites. Principal photography began on October 15, 2007, and concluded in December 2007; filming took place in Los Angeles and throughout Southern California. Eastwood's low-key direction led actors and crew to note the calmness of the set and the short working days. In post-production, scenes were supplemented with computer-generated skylines, backgrounds, vehicles and people.
Changeling premiered at the 61st Cannes Film Festival on May 20, 2008, to critical acclaim. Further festival appearances preceded a limited release in the United States on October 24, 2008. The film opened wide in North America on October 31, 2008, in the United Kingdom on November 26, 2008, and in Australia on February 5, 2009. Critical reaction was more mixed than at Cannes; the acting and story were generally praised, while criticism focused on the film's conventional staging and lack of nuance. It performed better at the international box office than in North America, earning $113 million worldwide. Changeling received nominations in three Academy Award and eight BAFTA Award categories.
---
Movie Reviews
Movie Review by Marty Meltz
Quality – 9 out of 10
A mighty triumph for Angelina Jolie, a masterful directing job by Clint Eastwood, and a deeply moving film for all, to say the least for any loving mother.
One can nit-pick the film to death, but in its driving purpose to show the deepest primal responses of a wronged mother who has lost her child by abduction and the merciless arms of a corrupt prevailing city government, the film rises to expectations. Jolie's performance is absolutely inspirational, seemingly propelled and vibrated from personal experience that one can easily assume, based upon her realism, could have been her own and that she is re-living.
Be prepared for choking, heart-tearing injustice that may cause you to rise out of your seats fuming. Director Eastwood orchestrates the many elements with uncanny perfection and eye for audience involvement. A point of criticism, which I regard as minor given the perspective which is centered on the heart of a grieving mother, may be in the short shrift given to the nature and extent of Los Angeles city hall corruption. It would have been interesting but beside the point. The many points of suspense are stark in their intensity; they will leave you dry-lipped and spellbound.
The film's production design is exceptional, with 1928 – '35 sets and costuming of detailed perfection.
Calling this a true story of 1928, director Clint Eastwood delivers this ambitious drama about a lost child that eventually fanned out into a condemnation of the entire LAPD and the city's power structure.
Christine Collins (Angelina Jolie), a single mother and hard-working telephone supervisor who moves about literally on skates, oversees a bank of women operators at a huge switchboard.
And now, every mother's ultimate nightmare: one day arriving home late she finds her 8-year-old son Walter gone. She'll pine in grief for five months at which point the police report they have found the boy. But this child is not him. Oh yes, he is, insists police Capt. J.J. Jones (Jeffrey Donovan). Oh no, he isn't, says not only mom but Walter's dentist, teacher and schoolmates.
The otherwise level-headed Christine now presses upon the police to find her real son. That's him, they insist; you're obviously delusional. This state of affairs induces an intense pattern of responses from her. From this circumstance, they expeditiously have her committed to the psycho ward, complete with all that implies as to treatment. The insufferably unctuous chief doctor uses the psychobabble of the times to justify the most extreme applications. By now, not only the police department but city authorities, the legal system and the medical establishment are involved, this because of the undaunted efforts by a Reverend Gustav Briegleb (John Malkovich), a muck-raking evangelist. The right reverend has always seen his mission as one of exposing the corruption which riddles the LAPD under Chief James E. Davis (Colm Feore).
And now comes an early teenage boy who confesses to the police that he had been compelled by a maniac to participate, along with a wacko youth, in the murder of 18 kidnapped boys.
There will be a historical murder trial, chilling City Hall proceedings, all leading to a shattering climax.
I'll go strong on this one. It's a welcome breath of fresh air after a summer of generally feeling like Hollywood was struggling pitifully for something special. Here it is.

Read More Movie Reviews at Marty at the Movies
---
'Changeling' Stars
Angelina Jolie, Clint Eastwood, Gattlin Griffith, Jan Devereaux, John Malkovich, Michael Kelly, Michelle Martin
---
'Changeling' Movie Links

Changeling on IMDb