---
The Tourist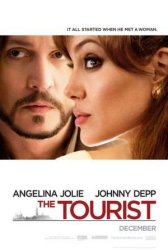 Starring: Angelina Jolie, Johnny Depp, Paul Bettany, Timothy Dalton, Steven Berkoff, Rufus Sewell
Director: Florian Henckel von Donnersmarck
Release Date:

December 10th, 2010
Release Date:

10th December, 2010
Synopsis: Frank is an American tourist visiting Italy to mend a broken heart. Elise is an extraordinary woman who deliberately crosses his path in order to mislead all those following her former lover, Alexander Pearce, a criminal wanted in fourteen countries who has stolen money from a gangster and is being pursued by an agent. Frank attempts to forge a potential romance but soon finds himself a target as he and Elise are caught in a whirlwind of intrigue and danger.
Status:
The Tourist Movie Trailer
About the Movie
The Tourist is an upcoming comedy-drama thriller film directed by Florian Henckel von Donnersmarck starring Angelina Jolie and Johnny Depp. It is a remake of the French film Anthony Zimmer.
---
Movie Reviews
Movie Review from EmpireOnline.com

It's an irony that can't have escaped their 'people', that Angelina Jolie and Johnny Depp – who have the chiselled charisma and elegant cool associated with movie stars in the 1950s and '60s heyday of well-dressed international romantic thrillers – have spent so much of their careers trying to be dowdy, neurotic, eccentric or freakish. So, it's no surprise they're tempted to take on a cosmopolitan romp before gearing up for another Oscar bid nervous breakdown or Tim Burton goth grotesque.

Read the Full Movie Review at EmpireOnline.com
Movie Review from TotalFilm.com

It's nothing new for a movie to lavish postcard love on exotic locales, but The Tourist takes the practice to near-hilarious extremes. If it feels like watching two stars romping through a well-paid holiday… well, that's probably not far from the truth. Angelina Jolie has revealed her agent only said, "There's this film in Venice…" and she was in. The result is a wispy caper about a super-hot mystery babe (that'll be Ang, then) and the doltish Midwestern maths teacher (Johnny Depp) she ensnares to throw Scotland Yard and Russian goons off her fugitive boyfriend's tail. The Tourist's brain trust would love us to fondly compare their trifle to To Catch A Thief and Charade, and flatter to deceive with some weighty off-screen talent.

Read the Full Movie Review at TotalFilm.com
Movie Review from Guardian.co.uk

Like two Persian cats who have been drugged and somehow trained to walk side by side down the street, those exotic A-listers Johnny Depp and Angelina Jolie make a curious spectacle. These pampered exquisites star in a glossy, silly, occasionally amusing caper set in Venice – remade from the 2005 French thriller Anthony Zimmer, and borrowing a little from Polanski's Frantic, with something of Live and Let Die in the chase sequences. Jolie plays a haughty, beautiful woman of mystery with lips as big as a Dalí sofa. She is first seen sipping a coffee in a Paris cafe while under surveillance from some flics hunched in an unmarked van – their leering sweatiness signalling, naturally, that they are about to be royally outwitted.

Read the Full Movie Review at Guardian.co.uk
Movie Review from TimeOut.com

This is a remarkable film. Take the Oscar-winning director of the universally acclaimed 'The Lives of Others', and add not one, but two Oscar-winning screenwriters – Julian Fellowes ('Gosford Park') and Christopher McQuarrie ('The Usual Suspects'). Throw in Angelina Jolie and Johnny Depp, attractive locations in wintry Paris and Venice. Sounds like it can hardly miss, right? Well, 'The Tourist' is remarkable because its not inconsiderable talent pool has delivered a would-be 'light-hearted international crime caper' which runs the gamut from idiocy to tedium and back again, all the while exuding a smug sense of self-satisfaction which is frankly inexplicable.

Read the Full Movie Review at TimeOut.com
Movie Review from Movies.com

Dancing between dueling identities — part exotic travelogue thriller, part romantic caper — The Tourist is a sleek, if slight, showpiece for stars Johnny Depp and Angelina Jolie. Cast just anyone (like, say, Charlize Theron and Sam Worthington, both of whom had been attached in the lead roles at one point or another) in this twist-filled European escapade and it wouldn't be half as watchable, but Jolie and Depp's star wattage keep the film afloat even when the plot grows increasingly preposterous. Their chemistry together, however, flirts a disappointingly chaste line; save for a few kisses, the pairing of the two former Sexiest Persons Alive never explodes into fireworks.

Read the Full Movie Review at Movies.com
Movie Review from Telegraph.co.uk

The Tourist has all the hallmarks of a sleekly diverting Euro-thriller, and sets about proving that hallmarks are not enough. It begins, as it must, with a caption saying "Paris, France", and a bunch of surveillance guys trying to get a look up Angelina Jolie's legs. An amusing scene at a café follows, where the mission to pin down this fragrant woman of mystery – the girlfriend, we hear, of some shady bigwig called Alexander Pearce – is thwarted with the words "the letter is burnt to s—". Before they can catch her, Jolie's Elise has somehow sashayed her way on to a train to Venice.

Read the Full Movie Review at Telegraph.co.uk
---
'The Tourist' Stars
Angelina Jolie, Florian Henckel von Donnersmarck, Johnny Depp, Paul Bettany, Rufus Sewell, Steven Berkoff, Timothy Dalton
---
'The Tourist' Movie Links

Official The Tourist Movie Website


The Tourist on IMDb