---
Flash of Genius (2008)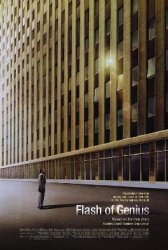 Starring: Greg Kinnear, Lauren Graham, Dermot Mulroney, Alan Alda, Bill Smitrovich, Tim Kelleher, Jake Abel
Director: Marc Abraham
Release Date:

October 3rd, 2008
Release Date:

20th March, 2009
Synopsis: Based on the true story of college professor and part-time inventor Robert Kearns' long battle with the U.S. automobile industry, "Flash of Genius" tells the tale of one man whose fight to receive recognition for his ingenuity would come at a heavy price. But this determined engineer refused to be silenced, and he took on the corporate titans in a battle that nobody thought he could win.
Status:
Flash of Genius Movie Trailer
About the Movie
Flash of Genius is a 2008 American biographical film directed by Marc Abraham. The screenplay by Philip Railsback, based on a 1993 New Yorker article by John Seabrook, focuses on Robert Kearns and his legal battle against the Ford Motor Company when they developed an intermittent windshield wiper based on ideas the inventor had patented.
The film's title is derived from patent law terminology, in effect from 1941 to 1952, that argued the idea for an invention could come to someone out of nowhere and without years of working on it beforehand.
---
'Flash of Genius' Stars
Alan Alda, Bill Smitrovich, Dermot Mulroney, Greg Kinnear, Jake Abel, Lauren Graham, Marc Abraham, Tim Kelleher
---
'Flash of Genius' Movie Links

Official Flash of Genius Movie Website


Flash of Genius on IMDb