---
Heat (1995)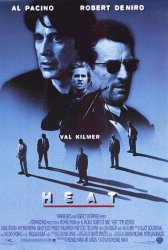 Starring: Al Pacino, Robert De Niro, Val Kilmer, Jon Voight, Tom Sizemore, Diane Venora, Amy Brenneman, Ashley Judd, Mykelti Williamson, Wes Studi, Ted Levine
Director: Michael Mann
Release Date:

December 15th, 1995
Release Date:

2nd February, 1996
Synopsis: In Los Angeles, a gang of armed thieves is hitting serious targets – major banks, vaults, and armored cars. These thieves are led by arch-criminal Neal MacAuley. One of their operations, an armored-car robbery, goes bad and the armored-car guards are murdered by the gunmen, putting LAPD homicide detective Vince Hanna on the trail of the thieves. Hanna knows it will take a lot to bring these dangerous, armed thieves down, and it will end in a horrifying gun battle when the thieves try to rob a major federal bank.
Status:
About the Movie
Heat is a 1995 American crime film written and directed by Michael Mann. It stars Al Pacino, Robert De Niro, and Val Kilmer. De Niro plays Neil McCauley, a professional burglar who is a calm and methodical introvert, while Pacino plays Lt. Vincent Hanna, veteran LAPD homicide detective whose explosive temper and devotion to his job causes him to neglect those closest to him. The central conflict of the film was based on the experiences of former Chicago police officer Chuck Adamson and his pursuit of a criminal named McCauley in the 1960s, from which the name of De Niro's character was derived.
The film is technically a remake of L.A. Takedown, a 1989 made-for-television film which was also written and directed by Mann; Mann had been trying to get Heat made for over a decade, and created L.A Takedown as a simplified version after his efforts were unsuccessful. Heat was a critical and commercial success, grossing over $187 million worldwide.
---
'Heat' Stars
Al Pacino, Amy Brenneman, Ashley Judd, Diane Venora, Jon Voight, Michael Mann, Mykelti Williamson, Robert De Niro, Ted Levine, Tom Sizemore, Val Kilmer, Wes Studi
---
'Heat' Movie Links

Heat on IMDb