---
Hop (2011)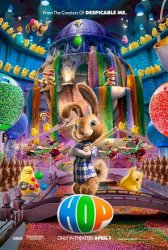 Starring: Kaley Cuoco, James Marsden, Russell Brand, Hugh Laurie, Elizabeth Perkins, Chelsea Handler
Director: Tim Hill
Release Date:

April 1st, 2011
Release Date:

1st April, 2011
Running Time: 95 Mins
Synopsis: Blending state-of-the-art animation with live action, Hop tells the comic tale of Fred, an out-of-work slacker who accidentally injures the Easter Bunny and must take him in as he recovers. As Fred struggles with the world's worst house guest, both will learn what it takes to finally grow up.
Status:
titlexxx - Hop Movie Trailer
About the Movie
Hop is an upcoming live-action/CGI-animated feature film from Universal Studios and Illumination Entertainment and will be released in theaters on April 1, 2011 across the United States and in the United Kingdom. It will be directed by Alvin and the Chipmunks director Tim Hill,and stars: James Marsden, Kaley Cuoco, Chelsea Handler, Elizabeth Perkins, David Hasselhoff and the voices of Russell Brand, Hugh Laurie and Hank Azaria.
---
Movie Reviews
Movie Review from EmpireOnline.com

Cute but chaotic animated animal meets live action slacker and impresses with his musical talent... If that sounds familiar, bear in mind this does come from the director of Alvin And The Chipmunks. Easter Bunny-in-training E.B. (voiced by Russell Brand) runs away from Easter Island to LA, where he meets and hangs onto the reluctant Fred (James Marsden). E.B. is a budding drummer so auditions for David Hasselhoff for Hoff Knows Talent (we kid you not). Meanwhile a chick is plotting to overthrow E.B.'s Dad, the Easter Bunny, back at base.

Read the Full Movie Review at EmpireOnline.com
Movie Review from TotalFilm.com

Who gives a toss about Easter apart from the Archbishop of Canterbury? Oh yeah, millions of chocolate-crazed kids. Spotting a lucrative gap in the holiday-movie market, this engaging if predictable comedy pins a dads-versus-sons tale on the Easter Bunny, as rebellious teen rabbit E.B. (Russell Brand) ditches Easter Island and his destiny for a dream of drumming in Hollywood. Director Tim Hill employs his Alvin And The Chipmunks patented recipe of live action mixed with a showbiz-hungry CG critter once more.

Read the Full Movie Review at TotalFilm.com
Movie Review from TimeOut.com

Director Tim Hill's follow-up to 'Alvin and the Chipmunks' is a less obnoxious affair but it's still low on charm and laughs. A hare-brained slice of Easter confection, 'Hop' is at best an affable mix of live-action and CG-animation which bounces along with a modest spring in its step. The story concerns young rabbit EB (Russell Brand) – heir to the Easter Bunny crown – who, on the eve of assuming the mantle from his father (Hugh Laurie), flees the family candy factory on Easter Island to pursue his dream of becoming a drummer in Los Angeles.

Read the Full Movie Review at TimeOut.com
Movie Review from Movies.com

I know what you said when you saw this trailer: FINALLY, a movie that gives the Easter Bunny his due. No longer do we have to suffer through countless Santa Claus movies--filmmakers are finally realizing that childhoods aren't just comprised of one Christian holiday. Truth is, they're comprised of two, and now the lepus gets his chance to shine. And shine he does...but in a sleigh with a huge workshop that makes him look just like Jolly Old St. Nick. But all that aside, the movie made me laugh a lot.

Read the Full Movie Review at Movies.com
Movie Review from Telegraph.co.uk

Russell Brand continues to cosy up to US audiences, providing the voice of a rebellious novice Easter Bunny who hides out with a human layabout (James Marsden, grinning and bearing it). This seasonal family flick comes from the makers of Despicable Me, which kept cuteness at bay with Steve Carell's grumpy stylings. The lack of any comparable reality check will make this one an endurance test for most people who aren't five. As a combination of animation and live action, it can't help but recall Who Framed Roger Rabbit.

Read the Full Movie Review at Telegraph.co.uk
---
'Hop' Stars
Chelsea Handler, Elizabeth Perkins, Hugh Laurie, James Marsden, Kaley Cuoco, Russell Brand, Tim Hill
---
'Hop' Movie Links

Official Hop Movie Website


Hop on IMDb


Hop on Wikipedia