---
Indiana Jones and the Last Crusade (1989)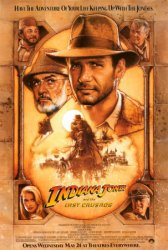 Starring: Harrison Ford, Sean Connery, Denholm Elliott, Alison Doody, John Rhys-Davies, Julian Glover, River Phoenix, Michael Byrne, Kevork Malikyan, Robert Eddison
Director: Steven Spielberg
Release Date:

May 24th, 1989
Release Date:

30th June, 1989
Synopsis: Three years after he recovered The Ark of the Covenant. Jones recovers an artifact that he found as a kid, the Cross of Francisco De Coronado from treasure hunters. Now, Jones discovers the history of another biblical artifact called "The Holy Grail". He is also informed that his father, Henry Jones is missing. Jones has to find his father who is looking for the Grail. However, Jones will become involved in the search of the Holy Grail along with his father, and fighting the Nazis to reach it first.
Status:
Indiana Jones and the Last Crusade Movie Trailer
Indiana Jones and the Last Crusade Teaser Trailer
About the Movie
Indiana Jones and the Last Crusade is a 1989 adventure film directed by Steven Spielberg, from a story co-written by executive producer George Lucas. It is the third film in the Indiana Jones franchise. Harrison Ford reprises the title role and Sean Connery plays Indiana's father, Henry Jones, Sr. Alison Doody, Denholm Elliott, Julian Glover, River Phoenix and John Rhys-Davies also have featured roles. Set largely in 1938, Indiana searches for his father, a Holy Grail scholar, who has been kidnapped by Nazis.
After the mixed reaction to the dark Indiana Jones and the Temple of Doom, Spielberg chose to compensate by completing the trilogy with a movie lighter in tone. During the five years between Temple of Doom and Last Crusade, he and executive producer Lucas reviewed several scripts before accepting Jeffrey Boam's. The filming locations included Spain, Italy, England, and Jordan.
The film was released in North America on May 24, 1989 to near universal critical acclaim. It was a financial success making $474,171,806 at the worldwide box office.
---
'Indiana Jones and the Last Crusade' Stars
Alison Doody, Denholm Elliott, George Lucas, Harrison Ford, John Rhys-Davies, Julian Glover, River Phoenix, Sean Connery, Steven Spielberg
---
'Indiana Jones and the Last Crusade' Movie Links

Official Indiana Jones and the Last Crusade Movie Website


Indiana Jones and the Last Crusade on IMDb