---
Indiana Jones and the Temple of Doom (1984)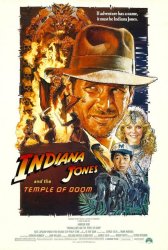 Starring: Harrison Ford, Kate Capshaw, Ke Huy Quan, Amrish Puri, Roshan Seth, Philip Stone, Roy Chiao, David Yip, Ric Young, Chua Kah Joo
Director: Steven Spielberg
Release Date:

May 23rd, 1984
Release Date:

15th June, 1984
Synopsis: A year before the events of "Raiders of the Lost Ark", Jones is in China trying to trade an artifact with Chinese gangsters. The gangsters try to ambush Jones, but he manages to escape. His plane crashes over the Hymalayas stranding him in the wastelands of India. Jones, along with the lounge singer 'Willie' Scott, and a kid called 'Short Round', comes to a village that is in crisis. The children are missing and the sacred stones of the village have been taken. Jones, Willie, and Short Round investigate the dissapearance of the children and the stones. They stumbled on a temple, where a vicious voodoo doctor kills and tortures his victims by tearing their hearts out. Jones has to defeat the doctor, save the children and recover the sacred stones.
Status:
Indiana Jones and the Temple of Doom Movie Trailer
About the Movie
Indiana Jones and the Temple of Doom is a 1984 adventure film directed by Steven Spielberg. It is the second film in the Indiana Jones franchise, and prequel to Raiders of the Lost Ark (1981). After arriving in India, Indiana Jones is asked by a desperate village to find a mystical stone. He agrees, stumbling upon a Kali Thuggee religious cult plotting child slavery, black magic and ritual human sacrifice.
Producer and co-writer George Lucas decided to make the film a prequel as he did not want the Nazis to be the villains once more. The original idea was to set the film in China, with a hidden valley inhabited by dinosaurs. More cancelled plot devices included the Monkey King and a haunted castle in Scotland. Lucas then wrote a film treatment that resembled the final storyline of the film, with Lawrence Kasdan turning down the offer to write the script. Willard Huyck and Gloria Katz wrote the script.
The film was released to financial success but mixed reviews, which criticized the on-screen violence (contributing to the creation of the PG-13 rating). However, critical opinion has improved since 1984, citing the film's intensity and imagination. Some of the film's cast and crew, including Spielberg, retrospectively view the film in an unfavorable light. The film has also been the subject of controversy due to its portrayal of India and Hinduism.
---
'Indiana Jones and the Temple of Doom' Stars
Amrish Puri, George Lucas, Harrison Ford, Kate Capshaw, Ke Huy Quan, Philip Stone, Roshan Seth, Steven Spielberg
---
'Indiana Jones and the Temple of Doom' Movie Links

Official Indiana Jones and the Temple of Doom Movie Website


Indiana Jones and the Temple of Doom on IMDb