---
Raiders of the Lost Ark (1981)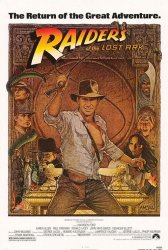 Starring: Harrison Ford, Karen Allen, Paul Freeman, Ronald Lacey, John Rhys-Davies, Denholm Elliott, Alfred Molina, Wolf Kahler, Anthony Higgins
Director: Steven Spielberg
Release Date:

June 12th, 1981
Release Date:

30th July, 1981
Synopsis: The year is 1936. A professor who studies archeology named Indiana Jones is venturing in the jungles in South America searching for a golden statue. Unfortunately, he sets off a deadly trap doing so, miraculously, he escapes. Then, Jones hears from a museum curator named Marcus Brody about a biblical artifact called The Ark of the Covenant, which can hold the key to humanly existence. Jones has to venture to vast places such as Nepal and Egypt to find this artifact. However, he will have to fight his enemy Renee Belloq and a band of Nazis in order to reach it.
Status:
Raiders of the Lost Ark Movie Trailer
Raiders of the Lost Ark Teaser Trailer
About the Movie
Raiders of the Lost Ark (also known as Indiana Jones and the Raiders of the Lost Ark) is a 1981 American action-adventure film directed by Steven Spielberg, produced by George Lucas, and starring Harrison Ford. It is the first film in the Indiana Jones franchise, and pits Indiana Jones (played by Ford) against the Nazis, who search for the Ark of the Covenant, in an attempt to make their army invincible. The film co-starred Karen Allen as Indiana's former lover Marion Ravenwood; Paul Freeman as Indiana's nemesis, French archaeologist René Belloq; John Rhys-Davies as Indiana's sidekick, Sallah; and Denholm Elliott as Indiana's colleague, Marcus Brody.
The film originated with Lucas' desire to create a modern version of the serials of the 1930s and 1940s. Production was based at Elstree Studios, England, and filming also took place in La Rochelle, Tunisia, Hawaii, and California from June to September 1980.
Released on June 12, 1981, Raiders of the Lost Ark became the top grossing film of 1981; it remains one of the highest-grossing films ever made. It was nominated for nine Academy Awards in 1982, including Best Picture, and won five (Art Direction, Film Editing, Sound, Visual Effects, and Sound Effects Editing). The film's critical and popular success led to three additional films, Indiana Jones and the Temple of Doom (1984), Indiana Jones and the Last Crusade (1989), and Indiana Jones and the Kingdom of the Crystal Skull (2008), a television series, The Young Indiana Jones Chronicles (1992-1996), and 15 video games as of 2009.
---
'Raiders of the Lost Ark' Stars
Alfred Molina, Denholm Elliott, George Lucas, Harrison Ford, John Rhys-Davies, Karen Allen, Paul Freeman, Ronald Lacey, Steven Spielberg
---
'Raiders of the Lost Ark' Movie Links

Official Raiders of the Lost Ark Movie Website


Raiders of the Lost Ark on IMDb