---
Jack Goes Boating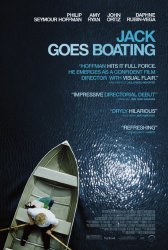 Starring: Philip Seymour Hoffman, John Ortiz, Richard Petrocelli, Thomas McCarthy, Amy Ryan, Daphne Rubin-Vega
Director: Philip Seymour Hoffman
Release Date:

September 23rd, 2010
Synopsis: In the dead of winter, we meet Jack, a limo driver who has vague dreams of landing a job with the MTA, a mild obsession with a reggae song, and has begun a half-hearted attempt at growing dreadlocks. He spends most of his time hanging out with his best friend and fellow driver, Clyde and Clyde's wife Lucy. The couple set Jack up with Connie, a co-worker of Lucy's at Dr. Bob's Funeral Home in Brooklyn. Being with Connie inspires Jack to learn to cook, pursue a new career, and take swimming lessons from Clyde so he can give Connie the romantic boat ride she wants. But as Jack and Connie cautiously circle commitment, Clyde and Lucy's marriage begins to disintegrate.
Status:
Jack Goes Boating Movie Trailer
About the Movie
Jack Goes Boating is a 2007 play by Bob Glaudini. An unconventional romantic comedy set in the midst of working-class New York City life, Jack Goes Boating's original production was directed by Peter Dubois and starred Phillip Seymour Hoffman as Jack, John Ortiz as Clyde, Daphne Rubin-Vega as Lucy, and Beth Cole as Connie. The show played in Martinson Hall at the Joseph Papp Public Theater for six weeks, and received positive reviews, particularly from the New York Times.
---
'Jack Goes Boating' Stars
Amy Ryan, Daphne Rubin-Vega, John Ortiz, Philip Seymour Hoffman, Richard Petrocelli, Thomas McCarthy
---
'Jack Goes Boating' Movie Links

Official Jack Goes Boating Movie Website


Jack Goes Boating on IMDb