---
Life of Brian (1979)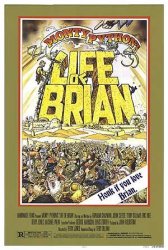 Starring: Graham Chapman, John Cleese, Terry Gilliam, Eric Idle, Terry Jones, Michael Palin, Carol Cleveland, Gwen Taylor
Director: Terry Jones
Release Date:

August 17th, 1979
Release Date:

8th November, 1979
Synopsis: Brian is born in a stable on Christmas, right next to You Know Who. The wise men appear and begin to distribute gifts. The star moves further, so they take it all back and move on. This is how Brian's life goes. The Jews are looking for a release from the Romans, Spiritual and political decay, keep looking for signs and a group decides Brian is the Messiah. He cannot convince them he is not. He joins the Peoples' Front of Judea, one of several dozen separatist groups who actually do nothing, but really hate the Romans. While not about Jesus, it is about those who hadn't time, or interest to listen to his message.
Status:
Life of Brian Movie Trailer
About the Movie
Monty Python's Life of Brian, also known as Life of Brian, is a 1979 comedy film written, directed and largely performed by the Monty Python comedy team. It tells the story of Brian Cohen (played by Graham Chapman), a young Jewish man who is born in the same era and location as Jesus Christ, and is subsequently mistaken for the Messiah.
The film contains themes of religious satire which were controversial at the time of its release, drawing accusations of blasphemy and protests from some religious groups. Thirty-nine local authorities in the UK either imposed an outright ban, or imposed an X (18 years) certificate (effectively preventing the film from being shown as the distributors said the film could not be shown unless it was unedited and carried the original AA (14) certificate). Certain countries banned its showing, with a few of these bans lasting decades. The film makers actually used such notoriety to benefit their marketing campaign with a posters stating "So funny it was banned in Norway!".
The film was a box-office success, grossing fourth-highest of any film in the UK in 1979 and highest of any British film in the United States that year. It has remained popular since then, receiving positive reviews and being named 'Greatest British comedy film of all time' by several magazines and television networks.
---
'Life of Brian' Stars
Carol Cleveland, Eric Idle, Graham Chapman, Gwen Taylor, John Cleese, Michael Palin, Terry Gilliam, Terry Jones
---
'Life of Brian' Movie Links

Life of Brian on IMDb