---
Me and Orson Welles (2008)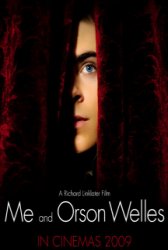 Starring: Ben Chaplin, Claire Danes, Zac Efron, Zoe Kazan, Eddie Marsan, Christian McKay, Kelly Reilly, James Tupper
Director: Richard Linklater
Release Date:

November 25th, 2009
Release Date:

4th December, 2009
Synopsis: After a chance encounter outside a derelict theatre, Richard Samuels finds himself inside chatting with Orson Welles, the Director of Broadways first Shakespearean production, Julius Caesar. Welles is a bullish, competitive character who is having an affair with the leading lady, despite his wife's pregnancy. Richard plays on Welles egotistical nature and manages to bluff his way into the role of Lucius. As rehearsals progress Richards total lack of acting ability becomes increasingly apparent and the rest of the company begin to express their concern over the state of the production. However, the wildly flirtatious Orson is too busy conducting radio interviews and seducing young women to take note. The opening night is a success but its short-lived. He tells his family he quit because it didn't pay and he returns to school and decides to pursue a career in writing instead of acting: he has an idea for a novel about a celebrity genius.
Status:
Me and Orson Welles Movie Trailer
About the Movie
Me and Orson Welles (2009) is a period-drama film directed by Richard Linklater and starring Zac Efron, Christian McKay, and Claire Danes. Based on Robert Kaplow's novel of the same name, the story, set in 1937 New York, tells of a teenager hired to star in Orson Welles' production of Julius Caesar, where he becomes attracted to a career-driven production assistant.
The film was shot in the Isle of Man, London, and New York in February, March, and April 2008, and is scheduled to be released in the US on November 25, 2009 and in the UK on December 4.
---
'Me and Orson Welles' Stars
Ben Chaplin, Christian McKay, Claire Danes, Eddie Marsan, James Tupper, Kelly Reilly, Richard Linklater, Zac Efron, Zoe Kazan
---
'Me and Orson Welles' Movie Links

Official Me and Orson Welles Movie Website


Me and Orson Welles on IMDb