---
Princess Mononoke (1997)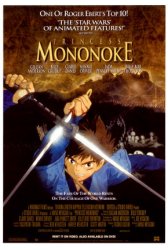 Starring: Gillian Anderson, Billy Crudup, Claire Danes, Minnie Driver, Jada Pinkett Smith, Billy Bob Thornton
Director: Hayao Miyazaki
Release Date:

November 26th, 1999
Release Date:

19th October 2001
Synopsis: A prince is infected with an incurable disease by a possessed boar/god. He is to die unless he can find a cure to rid the curse from his body. It seems that his only hope is to travel to the far east. When he arrives to get help from the deer god, he finds himself in the middle of a battle between the animal inhabitants of the forest and an iron mining town that is exploiting and killing the forest. Leading the forest animals in the battle is a human raised by wolves, Princess Mononoke.
Status:
Princess Mononoke Movie Trailer
About the Movie
Princess Mononoke is a 1997 Japanese animated historical fantasy feature film written and directed by Hayao Miyazaki of Studio Ghibli. It was first released in Japan on July 12, 1997 and in the United States on October 29, 1999 in select cities and on November 26, 1999 in Canada.
It is a period drama set specifically in the late Muromachi period of Japan but with numerous fantastic elements and concentrates on the struggle between the supernatural guardians of a forest and the humans who consume its resources as seen by the outsider Ashitaka. "Mononoke" is not a name, but a general term in the Japanese language for a spirit or monster.
Roger Ebert placed the movie sixth on his top ten movies of 1999. Mononoke also became the highest grossing movie in Japan until Titanic took over the spot several months later. Overall, Mononoke is the third highest grossing anime movie in Japan, next to 2001′s Spirited Away and 2004′s Howl's Moving Castle, both also by Miyazaki.
---
'Princess Mononoke' Stars
Billy Bob Thornton, Billy Crudup, Claire Danes, Gillian Anderson, Hayao Miyazaki, Jada Pinkett Smith, Minnie Driver
---
'Princess Mononoke' Movie Links

Princess Mononoke on IMDb