---
Morning Glory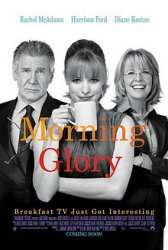 Starring: Rachel McAdams, Noah Bean, Harrison Ford, Jack Davidson, Diane Keaton, Vanessa Aspillaga
Director: Roger Michell
Release Date:

November 10th, 2010
Release Date:

21st January, 2011
Synopsis: Becky is a hard-working morning TV show producer, or at least she was until she got fired. Desperate to get a job, she finally gets an interview with Jerry - who is desperate to hire a producer for the struggling show "Daybreak". Becky accepts the job and it proves to be more difficult than even she might be able to handle. She has to fire the sexist co-host, then try to convince egotistical news reporter, Mike Pomeroy, to take the job, and then try and get him to actually do the job, properly. And she has to do this while falling for handsome Adam, and trying to save the show from plummeting ratings.
Status:
Morning Glory Movie Trailer
About the Movie
Morning Glory is a 2010 American comedy-drama film directed by Roger Michell and written by Aline Brosh McKenna. It stars Rachel McAdams, Harrison Ford, Diane Keaton, Patrick Wilson and Jeff Goldblum. After some delays, the film was released on November 10, 2010.
---
Movie Reviews
Movie Review from EmpireOnline.com

Beneath the 50 Cameos and BlackBerry vs. bonking dilemmas, there is something likably old-school about Morning Glory. Roger Michell's immensely enjoyable breakfast TV comedy is more Katharine Hepburn than Katherine Heigl, sharing DNA with the fast-paced, fast-talking flicks of '30s and '40s romantic comedies. It doesn't have the wit of a Wilder or the salt of a Sturges, but it still delivers grown-up laughs (emerging from human behaviour) with fizz and charm to spare.

Read the Full Movie Review at EmpireOnline.com
Movie Review from TotalFilm.com

A sharply written, pertinent romcom about a TV network caught in the crossfire between news and entertainment, abundant in wit and filled with excellent performances. Yes, Broadcast News really did have it all. But that was then, this is now, and what we get in its stead is Morning Glory, a forgettable trifle about a struggling breakfast TV show. Glory's holly hunter is Becky fuller (Rachel McAdams), a local news producer hired to inject some oomph into national morning show Daybreak (yes, like the one on ITV).

Read the Full Movie Review at TotalFilm.com
Movie Review from Hollywood.com

Morning Glory, like its director Roger Michell's most notable film, Notting Hill, doesn't reinvent the wheel, but takes it for a pleasant spin around town. He trades the grey skies of London for the skyscrapers of Manhattan with a fun if formulaic romantic comedy that boasts an impressive but underused cast, including Harrison Ford, Diane Keaton and Jeff Goldblum. Of course, the real star of the show is Becky Fuller, the behind-the-scenes boss of fictional network IBS' (what a name) fledgling morning show Daybreak, played by America's newest sweetheart Rachel McAdams.

Read the Full Movie Review at Hollywood.com
Movie Review from Guardian.co.uk

Harrison Ford gives an under-par performance in this disappointing TV-studio-set romantic comedy. He plays grumpy veteran newsman Mike Pomeroy, forced to co-anchor an appallingly fluffy breakfast show with Diane Keaton's equally jaded star Colleen Peck. This wacky pairing has been contrived by perky new producer Becky Fuller (Rachel McAdams). The script is by Aline Brosh McKenna, who wrote The Devil Wears Prada and there are obvious similarities – new kid intimidated by oldster – but nothing about the chemistry works here.

Read the Full Movie Review at Guardian.co.uk
Movie Review from TimeOut.com

Sometimes it all goes horribly wrong. 'Morning Glory' has a terrific cast, an intriguing plot, some decent jokes and a respected director, yet the end result is shrill, annoying and empty. Perhaps the problem is Rachel McAdams, whose shrieking, arm-waving performance as Becky Fuller, a TV exec hired to spice up a failing talk show, is the film's biggest flaw. Or perhaps it's down to Harrison Ford and Diane Keaton as the warring co-hosts who make her life hell: Ford looks half asleep, while Keaton seems to be auditioning for 'Mamma Mia!'.

Read the Full Movie Review at TimeOut.com
Movie Review from Movies.com

Morning Glory begins as your average chick flick romantic comedy, about a beautiful-but-dowdy heroine who's too focused on her career to land a suitor. Then it gives her the perfect man (in the form of Patrick Wilson as a sexy AND understanding bachelor who, shockingly, isn't too good to be true) and flips the switch into straight comedy mode, transforming into an exploration of the many ways in which Harrison Ford can stonewall and eviscerate every living person in his orbit with a single withering glance.

Read the Full Movie Review at Movies.com
---
'Morning Glory' Stars
Diane Keaton, Harrison Ford, Jack Davidson, Noah Bean, Rachel McAdams, Roger Michell, Vanessa Aspillaga
---
'Morning Glory' Movie Links

Official Morning Glory Movie Website


Morning Glory on IMDb