---
Mr. Popper's Penguins (2011)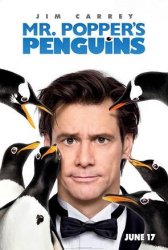 Starring: Jim Carrey, Carla Gugino, Angela Lansbury, Ophelia Lovibond, Madeline Carroll, Clark Gregg
Director: Mark Waters
Release Date:

June 17th, 2011
Release Date:

5th August, 2011
Running Time: 94 Mins
Synopsis: The life of a businessman begins to change after he inherits six penguins, and as he transforms his apartment into a winter wonderland, his professional side starts to unravel.
Status:
titlexxx - Mr. Popper's Penguins Movie Trailer
About the Movie
Mr. Popper's Penguins is a live-action family comedy film distributed by 20th Century Fox starring Jim Carrey, based on the children's book of the same name. The film was originally slated for a release on August 12, 2011, but was moved up to June 17, 2011.
---
Movie Reviews
Movie Review from EmpireOnline.com

Despite the big penguin fad seemingly having been played out with March Of The Penguins and Happy Feet, here comes an amiable family comedy largely focusing on the feathered and flippered ones. Dreamer-turned-real-estate shark Mr. Popper (Jim Carrey) inherits the birds from his late adventurer father, and while he initially resists the noisy, smelly creatures, he soon warms (or should that be cools?) to his charges.

Read the Full Movie Review at EmpireOnline.com
Movie Review from TotalFilm.com

Based on a still-popular children's book originally published in the '30s, Mr. Popper's Penguins drags the title character (Jim Carrey) through your standard array of Disneyesque transformative events meant to wring squeals of joy from wee ones and a tear or two from their nostalgic parents. Highly reminiscent of '60s deadbeat-meets- cute-animal flicks, Popper's trades in the shaggy dogs, monkeys and ducklings for a six-pack of CG penguins, but the song remains the same.

Read the Full Movie Review at TotalFilm.com
Movie Review from Hollywood.com

I could probably come up with a better pan for Mr. Popper's Penguins than "flightless and foul," but that would entail expending more creative energy on the film than its makers did. Directed by Mark Waters (Ghosts of Girlfriends Past, The Spiderwick Chronicles) and based on a 1938 children's book by Richard and Florence Atwater, it is so empty and artificial and formulaic that if I didn't know better, I would have pegged it as a very cynical parody, or perhaps a film within a film about some desperate mafioso's questionable money-laundering scheme.

Read the Full Movie Review at Hollywood.com
Movie Review from Guardian.co.uk

Jim Carrey, in effect, reprises his Scrooge turn as the star of this moderate family comedy about an uptight guy whose heart is melted, ironically, by creatures from the extreme cold; it is very freely adapted from a classic children's book. Carrey plays Popper, and there are some laughs to be had when the children from his failed marriage address him curtly by his surname: they are very much not calling him "poppa".

Read the Full Movie Review at Guardian.co.uk
Movie Review from TimeOut.com

Jim Carrey's first live-action film in two years puts the gurner extraordinaire in the role of New York real-estate tycoon Tom Popper, whose cunning business acumen and selfish lifestyle are challenged when he inherits a huddle of penguins from his late father. When his fellow company directors insist he secures the deed to an historic restaurant in Central Park, he sets about using his smarmy methods of persuasion. But the crotchety owner (Angela Lansbury) is having none of it.

Read the Full Movie Review at TimeOut.com
Movie Review from Movies.com

If you happen to be a six-year-old kid, you're not reading this review. You just want to see the movie with the penguins. If you're the parent of that six-year-old kid, you might be reading this review to help you decide which parent is going to lose the chaperon coin toss. And when you lose, and when your child winds up loving this movie, please try to remember that it happened.

Read the Full Movie Review at Movies.com
Movie Review from Telegraph.co.uk

The best thing about Mr Popper's Penguins is that it makes no discernible sense. Why penguins? How is it that they are shipped, frozen, to Park Avenue, and why? You won't find the answers to these questions, certainly not by reading the entirely dissimilar 1938 novel, but you will find your bafflement echoed on the face of Jim Carrey, who plays a smarty-pants property shark. These pseudo-magical crates full of blaring, pooing flightless birds are a sort of inheritance from his father, a long-lost adventurer whose ham radio messages got less and less frequent, until he vanished altogether from the airwaves.

Read the Full Movie Review at Telegraph.co.uk
---
'Mr. Popper's Penguins' Stars
Angela Lansbury, Carla Gugino, Clark Gregg, Jim Carrey, Madeline Carroll, Mark Waters, Ophelia Lovibond
---
'Mr. Popper's Penguins' Movie Links

Official Mr. Popper's Penguins Movie Website


Mr. Popper's Penguins on IMDb


Mr. Popper's Penguins on Wikipedia