---
Nothing But the Truth (2008)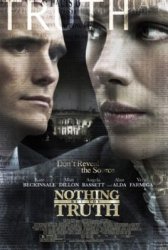 Starring: Kate Beckinsale, Matt Dillon, Alan Alda, Vera Farmiga, Harry Lennix, David Schwimmer, Angela Bassett, Noah Wyle
Director: Rod Lurie
Release Date:

December 19th, 2008
Synopsis: The story centers on female newspaper reporter who outs a CIA agent and is imprisoned for refusing to reveal her source. Schwimmer will play Beckinsale's husband, who initially supports his wife's decision not to name names but as time goes by begins to resent her for choosing a principle over her family.
Status:
Nothing But the Truth Movie Trailer
About the Movie
Nothing But The Truth is a 2008 American drama film written and directed by Rod Lurie. According to comments made by Lurie in The Truth Hurts, a bonus feature on the DVD release, his inspiration for the screenplay was the case of journalist Judith Miller, who in July 2005 was jailed for contempt of court for refusing to testify before a federal grand jury investigating a leak naming Valerie Plame as a covert CIA operative, but this was merely a starting point for what is primarily a fictional story. In an April 2009 interview, Lurie stressed, "I should say that the film is about neither of these women although certainly their stories as reported in the press went in to the creation of their characters and the situation they find themselves in."
The film premiered at the Toronto International Film Festival on September 8, 2008. It was scheduled to open in New York City and Los Angeles on December 19, but because distributor Yari Film Group Releasing filed for Chapter 11 protection, it never was given a theatrical release.
---
'Nothing But the Truth' Stars
Alan Alda, Angela Bassett, David Schwimmer, Harry Lennix, Kate Beckinsale, Matt Dillon, Noah Wyle, Rod Lurie, Vera Farmiga
---
'Nothing But the Truth' Movie Links

Official Nothing But the Truth Movie Website


Nothing But the Truth on IMDb