---
Oranges and Sunshine (2010)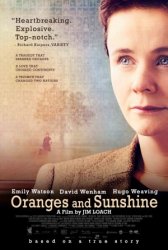 Starring: Hugo Weaving, Emily Watson, David Wenham, Tara Morice, Lorraine Ashbourne
Director: Jim Loach
Release Date:

1st April, 2011
Synopsis: The story of Margaret Humphreys, a social worker from Nottingham, who uncovered one of the most significant social scandals in recent times: the forced migration of children from the United Kingdom. Almost singlehandedly, against overwhelming odds and with little regard for her own well-being, Margaret reunited thousands of families, brought authorities to account and worldwide attention to an extraordinary miscarriage of justice.
Status:
titlexxx - Oranges and Sunshine Movie Trailer
About the Movie
Oranges and Sunshine is a 2010 drama film directed by Jim Loach with screenplay by Rona Munro.
---
Movie Reviews
Movie Review from EmpireOnline.com

Between the late 19th century and 1970, 130,000 British children taken into care were told their parents were dead, and shipped to Australia, where many suffered abuse at the hands of their new custodians. In his first feature, Jim Loach (son of Ken) tells the true story of the British social worker (Emily Watson) who exposed the scandal, and continues to fight on behalf of its victims — even managing to reunite a few with their birth parents. In less sensitive hands, Oranges And Sunshine might have been the cinematic equivalent of misery-lit.

Read the Full Movie Review at EmpireOnline.com
Movie Review from TotalFilm.com

The orange doesn't fall far from the tree in the feature debut of Jim 'son of Ken' Loach, an earnest retelling of how the shameful deportation of thousands of children from Britain to its former colonies came to light in the '80s. Loach Jr has inherited his father's righteous indignation and measured style. If he's also acquired Ken's didactic bent, that's an OK price to pay for a film that draws attention to a truly appalling injustice. Emily Watson plays Nottingham social worker Margaret Humphreys.

Read the Full Movie Review at TotalFilm.com
Movie Review from Guardian.co.uk

Jim Loach's sombre, painful film packs a hard punch; harder than you'd expect from the soft-focus poster. Emily Watson plays Margaret Humphreys, a Nottingham social worker who made it her mission in the 1980s to investigate the postwar scandal of child deportation. Children in care were literally transported – like criminals from a bygone age – to Australia, there to be kept in children's homes. Many were (falsely) told their parents were dead and often brutally abused in places similar to Ireland's Magdalene laundries.

Read the Full Movie Review at Guardian.co.uk
Movie Review from TimeOut.com

'Oranges and Sunshine' is a sobering, eye-opening film that looks back from the viewpoint of the late 1980s at the forced migration of children in care from Britain to Australia in the '40s, '50s and '60s – a bitter journey sugared by the promises of this film's title. Shockingly, the parents of many kids thought their offspring had been adopted, while the kids were sometimes shipped to abusive institutions and told they were orphans. The Australian and British governments brought this shameful episode in their histories to something of a close in 2009 and 2010.

Read the Full Movie Review at TimeOut.com
Movie Review from Telegraph.co.uk

Jim Loach follows in dad's footsteps with a compassionate investigative drama about the wave of UK-to-Australia child migration in the 1950s, and the many sundered families left in the dark. Emily Watson, in a welcome lead role that doesn't afford her quite the opportunities you'd hope, is Margaret Humphreys, the social worker doggedly pursuing the truth down under. Those antagonistic to her cause are only allowed to be barely-glimpsed cut-outs, which stifles any real dramatic friction in Rona Munro's script, but the theme of dispossession does resonate.

Read the Full Movie Review at Telegraph.co.uk
---
'Oranges and Sunshine' Stars
David Wenham, Emily Watson, Hugo Weaving, Jim Loach, Lorraine Ashbourne, Tara Morice
---
'Oranges and Sunshine' Movie Links

Oranges and Sunshine on IMDb


Oranges and Sunshine on Wikipedia