---
Secretariat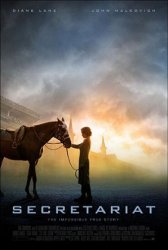 Starring: Diane Lane, John Malkovich, Scott Glenn, James Cromwell, Dylan Walsh, Fred Dalton Thompson
Director: Randall Wallace
Release Date:

October 8th, 2010
Release Date:

10th December, 2010
Synopsis: Housewife and mother Penny Chenery agrees to take over her ailing father's Virginia-based Meadow Stables, despite her lack of horse-racing knowledge. Against all odds, Chenery with the help of veteran trainer Lucien Laurin manages to navigate the male-dominated business, ultimately fostering the first Triple Crown winner in twenty-five years.
Status:
Secretariat Movie Trailer
About the Movie
Secretariat is an upcoming 2010 American film for Walt Disney Pictures and Mayhem Pictures. The film is being directed by Randall Wallace. Diane Lane portrays Secretariat's owner, Penny Chenery, and John Malkovich plays the part of Secretariat's trainer, Lucien Laurin. The trailer was attached with select prints of Toy Story 3.
Filming is on location in Louisville and Lexington, Kentucky and around Lafayette, Louisiana and Carencro, Louisiana. The film is scheduled to be released on October 8, 2010.
---
Movie Reviews
Movie Review from EmpireOnline.com

Three races. Three states. Five weeks. That's how to win the impossible Triple Crown. Secretariat (not a typo) did just that, becoming the finest racehorse e'er born, uniting '70s America, saving families etc. With, er, Greyfriars Bobby done, Disney takes the reins (sorry) of an against-all-odds animal yarn about Penny (Diane Lane), a housewife-turned-battleaxe who swaps frying grits for equine business. Closer to Herbie than Seabiscuit, there's some distance to run before we see… well, a horse run.

Read the Full Movie Review at EmpireOnline.com
Movie Review from TotalFilm.com

The Blind Side proved that inspirational sports movies can star and attract women, and thus bank really serious coinage. On its heels comes this solid, stolid but periodically pulse-quickening biopic about Penny Chenery (Diane Lane as a very steely magnolia), the Southern housewife who backed '70s US wonder-horse Secretariat all the way. Director Randall Wallace (We Were Soldiers) serves up a good-looking, morally uplifting account of how Chenery, aided by flamboyant trainer Lucien Laurin (John Malkovich), worked to save her dying father's horse-breeding business by racing a miraculously strong red colt that the racing old-guard refused to take seriously.

Read the Full Movie Review at TotalFilm.com
Movie Review from Hollywood.com

The story of the most dominant racehorse of all time does not easily fit into the standard inspirational sports flick mold. Such films typically require its protagonists to overcome seemingly insurmountable obstacles, be they competitive (Hoosiers), personal (The Natural), societal (Ali), or some combination of all three (Remember the Titans). But by all accounts, the greatest challenges to Secretariat capturing of the 1973 Triple Crown were not rival horses — indeed, Secretariat had no true rival — but a pair of slow starts and an abscess. And abscesses — apologies to dermatologists — simply aren't all that effective as dramatic devices.

Read the Full Movie Review at Hollywood.com
Movie Review from Guardian.co.uk

Just when we thought John Malkovich didn't have another semi-intentionally deranged performance left in him, he has come storming back with another uproarious turn, as Lucien Laurin, the mercurial horse trainer in this true-life heartwarmer about a super-fast 1970s racehorse called Secretariat. Malkovich wears silly pork-pie hats and he's supposed to be French Canadian. This means he periodically lapses into a bizarrely accented French, spoken as if through a mouthful of Toblerone.

Read the Full Movie Review at Guardian.co.uk
Movie Review from TimeOut.com

This horsey, 1970s-set Disney film doesn't boast the most imaginative script and is too long and businesslike for youngsters – yet it still produces a lump in the throat. The title nods to the greatest race horse of all time, but the filmmakers choose to focus on its owner, Penny Chenery (Diane Lane), a no-nonsense housewife who, against all advice, takes charge of her late father's failing breeding stables and is given a boost when one of her mares produces the foal that becomes Secretariat. With the help of Margo Martindale's home help and John Malkovich's flamboyant trainer, Penny perseveres through the ups and downs of juggling family life with big business and is eventually rewarded when her steed wins the coveted US Triple Crown.

Read the Full Movie Review at TimeOut.com
Movie Review from Movies.com

Oh, wait, did you want to see a horse movie? Like were you thinking this was going to be mostly about a horse because it's named after one? Well, sorry, but it's about Diane Lane's character and her own difficulties in being a woman racehorse owner during an era when women were only just starting to get their political legs under them and few owned championship racehorses. Weirdly enough, the word "feminism" never enters the film at all, but Lane demonstrates plenty of it as obnoxious guy after obnoxious guy wilts under her constant charm and well-timed sarcastic retorts. It also helps that she owns a mega-horse that can't lose.

Read the Full Movie Review at Movies.com
---
'Secretariat' Stars
Diane Lane, Dylan Walsh, Fred Dalton Thompson, James Cromwell, John Malkovich, Randall Wallace, Scott Glenn
---
'Secretariat' Movie Links

Secretariat on IMDb