---
Star Wars: Episode I – The Phantom Menace (1999)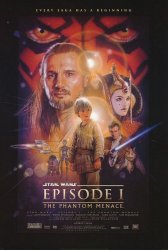 Starring: Liam Neeson, Ewan McGregor, Natalie Portman, Jake Lloyd, Pernilla August, Frank Oz, Ian McDiarmid, Ray Park, Ahmed Best, Anthony Daniels, Kenny Baker, Terence Stamp
Director: George Lucas
Release Date:

May 19th, 1999
Release Date:

16th July, 1999
Synopsis: The evil Trade Federation, led by Nute Gunray is planning to take over the peaceful world of Naboo. Jedi's Qui-Gon Jinn and Obi-Wan Kenobi are sent to confront the leaders. But not everything goes to plan. The two Jedis escape, and along with their new Gungan friend, Jar Jar Binks head to Naboo to warn Queen Amidala, but droids have already started to capture Naboo and the Queen is not safe there. Eventually they land on Tatooine, where they become friends with a young boy known as Anakin Skywalker. Qui-Gon is curious about the boy, and sees a bright future for him. The group must now find a way of getting to Coruscant and to finally solve this trade dispute, but there is someone else hiding in the shadows. Are the sith really extinct?
Status:
Star Wars: Episode I – The Phantom Menace Movie Trailer
Star Wars: Episode I – The Phantom Menace Teaser Trailer
About the Movie
Star Wars Episode I: The Phantom Menace is a 1999 American space opera film written and directed by George Lucas. It was the fourth film to be released in the Star Wars saga, the first of a three-film prequel story to the original film trilogy. It was also Lucas' first film as a director in 22 years, and only his fourth overall. The film follows Jedi Knights Qui-Gon Jinn and Obi-Wan Kenobi, who flee the planet Naboo with Queen Amidala in the hope of finding a peaceful end to a trade dispute. Along the way, the ship must stop for repairs on the planet Tatooine, where the Jedi encounter Anakin Skywalker, a young slave boy who is unusually strong with the Force. Meanwhile, they must contend with the mysterious return of the Sith.
Lucas began production when he felt special effects had advanced to the level of what he had envisioned for the film. Shooting took place during 1997 at various locations including Leavesden Film Studios and the Tunisian desert. Special effects made extensive use of computer-generated imagery, with some characters and scenarios being completely digital.
The Phantom Menace was released on May 19, 1999, almost sixteen years after the previous film in the series, Return of the Jedi (1983), and was accompanied by extensive media coverage and great anticipation. Despite mixed reviews by critics, who praised the visuals and action sequences but criticized the writing, characterization and acting, it grossed $924.3 million worldwide, making it the highest-grossing Star Wars film, the 11th highest-grossing film of all time and the highest-grossing film of 1999. It is also the 6th highest-grossing film of all time at the US box office.
---
'Star Wars: Episode I – The Phantom Menace' Stars
Ahmed Best, Anthony Daniels, Ewan McGregor, Frank Oz, George Lucas, Ian McDiarmid, Jake Lloyd, Kenny Baker, Liam Neeson, Natalie Portman, Pernilla August, Ray Park, Terence Stamp
---
'Star Wars: Episode I – The Phantom Menace' Movie Links

Star Wars: Episode I – The Phantom Menace on IMDb