---
Star Wars: Episode VI – Return of the Jedi (1983)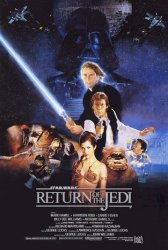 Starring: Mark Hamill, Harrison Ford, Carrie Fisher, Billy Dee Williams, Anthony Daniels, Peter Mayhew, Sebastian Shaw, Ian McDiarmid, Frank Oz, James Earl Jones, David Prowse, Alec Guinness, Kenny Baker
Director: Richard Marquand
Release Date:

May 25th, 1983
Release Date:

14th July, 1983
Synopsis: Darth Vader and the Empire are building a new, indestructible Death Star. Meanwhile, Han Solo has been imprisoned, and Luke Skywalker has sent R2D2 and C3PO to try and free him. Princess Leia – disguised as a bounty hunter – and Chewbacca go along as well. The final battle takes place on the moon of Endor, with its natural inhabitants, the Ewoks, lending a hand to the rebels. Will Darth Vader and the dark side overcome the rebels and take over the universe?
Status:
Star Wars: Episode VI – Return of the Jedi Movie Trailer
Star Wars: Episode VI – Return of the Jedi Teaser Trailer
About the Movie
Star Wars Episode VI: Return of the Jedi is a 1983 American space opera film directed by Richard Marquand and written by George Lucas and Lawrence Kasdan. It is the third film released in the Star Wars saga, and the sixth and final in terms of internal chronology. It is also the first film to use THX technology.
The film is set one year after Star Wars Episode V: The Empire Strikes Back. Luke Skywalker and members of the Rebel Alliance travel to Tatooine to rescue their friend Han Solo from Jabba the Hutt. Meanwhile, the Galactic Empire is planning to crush the Rebel Alliance with a second Death Star while the Rebel fleet simultaneously prepares to launch a full-scale attack on this new space station. Luke confronts his father, Darth Vader, in a climactic duel before the evil Emperor Palpatine. The film also shows the redemption of Anakin Skywalker, redeemed by his desire to save his son from the Emperor.
The film was released in theaters on May 25, 1983, receiving mostly positive reviews. The film grossed over $475 million worldwide. Several home video and theatrical releases and revisions to the film followed over the next 20 years. It was the last Star Wars film released theatrically until Star Wars Episode I: The Phantom Menace began the prequel trilogy in 1999.
---
'Star Wars: Episode VI – Return of the Jedi' Stars
Alec Guinness, Anthony Daniels, Billy Dee Williams, Carrie Fisher, David Prowse, Frank Oz, George Lucas, Harrison Ford, Ian McDiarmid, James Earl Jones, Jeremy Bulloch, Kenny Baker, Mark Hamill, Peter Mayhew, Sebastian Shaw
---
'Star Wars: Episode VI – Return of the Jedi' Movie Links

Star Wars: Episode VI – Return of the Jedi on IMDb