---
Star Wars: Episode II – Attack of the Clones (2002)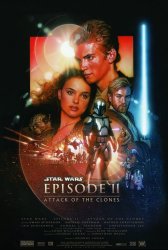 Starring: Ewan McGregor, Natalie Portman, Hayden Christensen, Christopher Lee, Samuel L. Jackson, Frank Oz, Ian McDiarmid, Pernilla August, Rose Byrne, Temuera Morrison, Daniel Logan, Jimmy Smits
Director: George Lucas
Release Date:

May 16th, 2002
Release Date:

16th May, 2002
Synopsis: Ten years after the 'Phantom Menace' threatened the planet Naboo, Padmé Amidala is now a Senator representing her homeworld. A faction of political separatists, led by Count Dooku, attempts to assassinate her. There aren't enough Jedi to defend the Republic against the threat, so Chancellor Palpatine enlists the aid of Jango Fett, who promises that his army of clones will handle the situation. Meanwhile, Obi-Wan Kenobi continues to train the young Jedi Anakin Skywalker, who fears that the Jedi code will forbid his growing romance with Amidala.
Status:
Star Wars: Episode II – Attack of the Clones Movie Trailer
Star Wars: Episode II – Attack of the Clones Teaser Trailer
About the Movie
Star Wars Episode II: Attack of the Clones is a 2002 American space opera film directed by George Lucas and written by Lucas and Jonathan Hales. It is the fifth film to be released in the Star Wars saga and the second in terms of internal chronology.
The film is set 10 years after the events in Star Wars Episode I: The Phantom Menace, when the galaxy is on the brink of civil war. Under the leadership of a renegade Jedi named Count Dooku, thousands of planetary systems threaten to secede from the Galactic Republic. When an assassination attempt is made on Senator Padmé Amidala, the former Queen of Naboo, 20-year-old Jedi apprentice Anakin Skywalker is assigned to protect her, while his mentor Obi-Wan Kenobi is assigned to investigate the assassination attempt. Soon, Anakin, Padmé, and Obi-Wan are drawn into the heart of the Separatist territories and the beginning of a new threat to the galaxy, the Clone Wars.
Released on May 16, 2002, Attack of the Clones was the first motion picture to be shot completely on a high definition digital 24-frame system and the first Star Wars film to be internationally out-grossed in the year of its original release.
---
'Star Wars: Episode II – Attack of the Clones' Stars
Christopher Lee, Daniel Logan, Ewan McGregor, Frank Oz, George Lucas, Hayden Christensen, Ian McDiarmid, Jimmy Smits, Natalie Portman, Pernilla August, Rose Byrne, Samuel L. Jackson, Temuera Morrison
---
'Star Wars: Episode II – Attack of the Clones' Movie Links

Star Wars: Episode II – Attack of the Clones on IMDb