---
Star Wars: Episode V – The Empire Strikes Back (1980)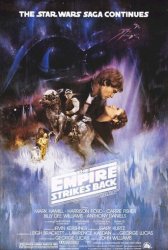 Starring: Mark Hamill, Harrison Ford, Carrie Fisher, Billy Dee Williams, Anthony Daniels, David Prowse, Peter Mayhew, Kenny Baker, Frank Oz, Alec Guinness, Jeremy Bulloch
Director: Irvin Kershner
Release Date:

May 21st, 1980
Release Date:

15th August, 1980
Synopsis: After receiving a vision from Obi-Wan Kenobi and fleeing the ice world of Hoth with his friends after an Imperial attack, Luke Skywalker travels to the marsh planet of Dagobah, where he is instructed in the ways of the Force by the legendary Jedi master Yoda. Meanwhile, Han Solo and Princess Leia make their way to planet Bespin, where they are greeted by Han's old friend, a shifty gambler named Lando Calrissian. Ambushed by the Empire shortly after their arrival, Han and his friends are imprisoned by Darth Vader. Luke leaves Dagobah to rescue his friends, and is met by Vader and a startling revelation.
Status:
Star Wars: Episode V – The Empire Strikes Back Movie Trailer
Star Wars: Episode V – The Empire Strikes Back Teaser Trailer
About the Movie
Star Wars Episode V: The Empire Strikes Back is a 1980 American space opera film directed by Irvin Kershner. The screenplay, based on a story by George Lucas, was written by Leigh Brackett and Lawrence Kasdan. It was the second film released in the Star Wars saga, and the fifth in terms of internal chronology.
The film is set three years after the destruction of the Death Star. The villainous Darth Vader and the elite forces of the Galactic Empire are in pursuit of Luke Skywalker, Han Solo, Princess Leia Organa, and the Rebel Alliance. While Vader chases Han and Leia across the galaxy, Luke studies the Force under Jedi Master Yoda. Vader uses Luke's friends to set a trap for him, leading to a fierce confrontation between the black-armored Sith and the young Jedi which ends with a shocking revelation.
Following a difficult production, The Empire Strikes Back was released on May 21, 1980, and initially received mixed reviews from critics, although it has since grown in esteem, becoming one of the most popular chapters in the saga and one of the most highly rated films in history. It earned more than US$538 million worldwide over the original run and several re-releases, making it the highest grossing film of 1980. When adjusted for inflation, it is the 12th highest grossing film of all time.
---
'Star Wars: Episode V – The Empire Strikes Back' Stars
Alec Guinness, Anthony Daniels, Billy Dee Williams, Carrie Fisher, David Prowse, Frank Oz, George Lucas, Harrison Ford, Jeremy Bulloch, Kenny Baker, Mark Hamill, Peter Mayhew
---
'Star Wars: Episode V – The Empire Strikes Back' Movie Links

Star Wars: Episode V – The Empire Strikes Back on IMDb