---
Star Wars: Episode IV – A New Hope (1977)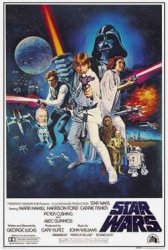 Starring: Mark Hamill, Harrison Ford, Carrie Fisher, Peter Cushing, Alec Guinness, Anthony Daniels, Kenny Baker, Peter Mayhew, David Prowse, James Earl Jones
Director: George Lucas
Release Date:

May 25th, 1977
Release Date:

27th December, 1977
Synopsis: Luke Skywalker stays with his foster aunt and uncle on a farm on Tatooine. He is desperate to get off this planet and get to the Academy like his friends, but his uncle needs him for the next harvest. Meanwhile, an evil emperor has taken over the galaxy, and has constructed a formidable "Death Star" capable of destroying whole planets. Princess Leia, a leader in the resistance movement, acquires plans of the Death Star, places them in R2D2, a droid, and sends him off to find Obi-Wan Kenobi. Before he finds him, R2D2 ends up on Skywalkers' farm with his friend C3PO. R2 then wanders into the desert, and when Luke follows, they eventually come across Obi-Wan. Will Luke, Obi-Wan, and the two droids be able to destroy the Death Star, or will the Emperor rule forever?
Status:
Star Wars: Episode IV – A New Hope Movie Trailer
Star Wars: Episode IV – A New Hope Teaser Trailer
About the Movie
Star Wars, later retitled Star Wars Episode IV: A New Hope, is a 1977 American space opera film, written and directed by George Lucas. It is the first of six films released in the Star Wars saga: two subsequent films complete the original trilogy, while a prequel trilogy completes the six film saga. Ground-breaking in its use of special effects, unconventional editing, and sci-fi/fantasy storytelling, the original Star Wars is one of the most successful and influential films of all time.
Set long ago in a distant galaxy, the film follows a group of freedom fighters known as the Rebel Alliance who are plotting to destroy the Death Star space station, a powerful device created by the evil Galactic Empire. This conflict disrupts the isolated life of farmboy Luke Skywalker when he inadvertently acquires the droids carrying the stolen Death Star plans. When the Empire begins a cruel and destructive search for the droids, Skywalker decides to accompany Jedi Master Obi-Wan Kenobi on a daring mission to rescue the owner of the droids, rebel leader Princess Leia Organa, and save the galaxy.
Produced with a budget of $11 million and released on May 25, 1977, the film went on to earn $460 million in the United States and $337 million overseas, surpassing Jaws as the highest-grossing film of all time at the time. It also received several awards, including 10 Academy Award nominations, among them Best Supporting Actor for Alec Guinness and Best Picture. Lucas has re-released the film on several occasions, sometimes with significant changes; the most notable versions are the 1997 Special Edition and the 2004 DVD release, which have modified computer-generated effects, altered dialogue, and added scenes.
---
'Star Wars: Episode IV – A New Hope' Stars
Alec Guinness, Anthony Daniels, Carrie Fisher, David Prowse, George Lucas, Harrison Ford, James Earl Jones, Kenny Baker, Mark Hamill, Peter Cushing, Peter Mayhew
---
'Star Wars: Episode IV – A New Hope' Movie Links

Star Wars: Episode IV – A New Hope on IMDb