---
Super 8 (2011)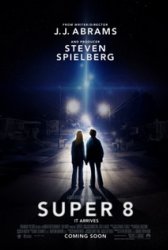 Starring: Joel Courtney, Kyle Chandler, Elle Fanning, Riley Griffiths, Ryan Lee, Gabriel Basso
Director: J.J. Abrams
Release Date:

June 10th, 2011
Release Date:

5th August, 2011
Running Time: 112 Mins
Synopsis: In the summer of 1979, a group of friends in a small Ohio town witness a catastrophic train crash while making a super 8 movie and soon suspect that it was not an accident. Shortly after, unusual disappearances and inexplicable events begin to take place in town, and the local Deputy tries to uncover the truth - something more terrifying than any of them could have imagined.
Status:
titlexxx - Super 8 Movie Trailer
About the Movie
Super 8 is a 2011 American science fiction film written and directed by J. J. Abrams and produced by Steven Spielberg. The film stars Joel Courtney, Elle Fanning, and Kyle Chandler and was released on June 10, 2011 in conventional and IMAX theaters. The film tells the story of a group of children who are filming their own Super 8 movie when a train derails, releasing a dangerous presence into their town. The movie was filmed in Weirton, West Virginia and surrounding areas.
---
Movie Reviews
Movie Review from EmpireOnline.com

We need to talk about Steven. You might consider it grossly unfair to compare any director to one of the medium's greatest exponents, but J. J. Abrams is asking for it. Not only has he persuaded Steven Spielberg to serve as producer on his latest film — encouragingly neither sequel, prequel, nor attempt to deodorise a stale franchise — but the very film the tenderfoot filmmaker has written and directed is a fan letter to the spirit of early Spielberg.

Read the Full Movie Review at EmpireOnline.com
Movie Review from TotalFilm.com

There was a time, back in the late '70s and early '80s, when blockbusters had heart and soul to go with their balls, when the testosterone and the money shots were duly arrived at after periods of intimacy. Super 8, the old charmer, returns to such innocent times, assuredly delivering bang for buck but – first and foremost – respecting old-fashioned concepts like, y'know, character, emotion, storytelling.

Read the Full Movie Review at TotalFilm.com
Movie Review from Hollywood.com

In this era of remakes and reboots, writer-director J.J. Abrams is here to introduce a third option: the throwback. Though ostensibly an original work, his new film, Super 8, is meticulously designed to appear as otherwise. Its intent, which it makes no effort to hide, is to mine our nostalgia for the early oeuvre of Steven Spielberg, to invoke our affection for films like E.T., Close Encounters of the Third Kind, and even Jaws.

Read the Full Movie Review at Hollywood.com
Movie Review from Guardian.co.uk

JJ Abrams's amiable, ever so slightly disappointing mystery adventure is a weird hybrid. It's an affectionate tribute to Spielberg classics such as Close Encounters and ET, but it is also itself, as the poster announces, a Steven Spielberg movie: Spielberg produces. So it's part homage, part franchise operation. Spielberg has, in effect, licensed out his (former) style to Abrams, who in some way is like a lifelong burger fan entrusted with the chief managerial job at America's biggest branch of McDonald's.

Read the Full Movie Review at Guardian.co.uk
Movie Review from TimeOut.com

Is it just nationalist fervour, or has a low-budget British effort from a first-time director actually beaten the cream of Hollywood at their own game? 'Super 8' has a solid pedigree – written and directed by 'Lost' creator JJ Abrams and produced by Steven Spielberg – but in an '80s-referencing, kids-v-aliens action smackdown, it'd lose badly to our very own 'Attack the Block'. The links between the two films are notable.

Read the Full Movie Review at TimeOut.com
Movie Review from Movies.com

This is not a Steven Spielberg film but you'd be forgiven for thinking you'd been actually transported back to 1979 when he was at the height of his coolness powers. So yeah, complain about that if you want, that writer-director J.J. Abrams is simply ripping off the master of kids-plus-aliens-plus-adventure-plus-awe. Or you could think of it in musical terms. Great new pop songs are never truly "original."

Read the Full Movie Review at Movies.com
Movie Review from Telegraph.co.uk

Super 8 is a movie about movies, a movie in love with the past. It's a séance that tries to summon the ghosts of American popular cinema in order to pay tribute to them, to tell them that, at least as far as director JJ Abrams is concerned, they will never be forgotten. Cold War sci-fi from the Fifties; George Romero zombie flicks; Steven Spielberg's Close Encounters of the Third Kind; the huge shadow archive of scratchy, homemade pictures created by cine-enthusiasts who dreamed of being of Romero and Spielberg.

Read the Full Movie Review at Telegraph.co.uk
---
'Super 8' Stars
Elle Fanning, Gabriel Basso, J.J. Abrams, Joel Courtney, Kyle Chandler, Riley Griffiths, Ryan Lee
---
'Super 8' Movie Links

Official Super 8 Movie Website


Super 8 on IMDb


Super 8 on Wikipedia