---
Tangled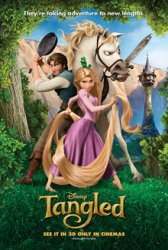 Starring: Mandy Moore, Zachary Levi, Donna Murphy, M.C. Gainey, Brad Garrett, Ron Perlman
Director: Nathan Greno, Byron Howard
Release Date:

November 24th, 2010
Release Date:

28th January, 2011
Synopsis: The long-haired Princess Rapunzel has spent her entire life in a tower, but when she falls in love with a bandit who was passing by she must venture into the outside world for the first time to find him.
Status:
About the Movie
Tangled (also known as Rapunzel) is an upcoming American 3D animated film produced by Walt Disney Animation Studios and starring the voices of Mandy Moore and Zachary Levi. It will be the 50th animated feature in the Walt Disney Animated Classics series, planned for release on November 24, 2010. The story is largely based on the classic German fairy tale Rapunzel by the Brothers Grimm. The theatrical trailers were attached to screenings of Toy Story 3 and Secretariat.
---
Movie Reviews
Movie Review from EmpireOnline.com

It seems like an odd thing to mention off the bat, but the light in Tangled is just gorgeous. It glimmers and glows, bouncing off surfaces and gleaming on curves. That's important when you've got a character whose long, shiny golden hair is essential to the plot, but more important is the way the light touches every surface in the film, making this the best-looking Disney since Sleeping Beauty. That, of course, was an almost abstract, medieval art-inspired affair; this appears a dreamier, more Romantic effort, but don't let that fool you.

Read the Full Movie Review at EmpireOnline.com
Movie Review from TotalFilm.com

Just like the heroine of its 50th animated movie, Disney is letting its hair down and moving on. Tangled will be the studio's last fairytale for some time and, happily, the Mouse House have pulled off their most enjoyable 'toon since 2000′s The Emperor's New Groove. That absurdist surprise was a real standout – looking back over Disney's century of movies, it's alarming how suddenly the quality drops off after The Lion King.

Read the Full Movie Review at TotalFilm.com
Movie Review from Hollywood.com

Having only recently revived its cartoon fairytale division, Disney abruptly announced earlier this week that it's leaving the business for good. Which is a shame, because few cinematic staples have proved more consistently entertaining — or more effective as a babysitting tool. With its final fairytale adaptation, Tangled, a lively comic take of the classic Rapunzel fable, the venerable studio can at least say that it's exiting the genre on a high note.

Read the Full Movie Review at Hollywood.com
Movie Review from Guardian.co.uk

We are often and rightly said to be living in a new golden age of animation. Just occasionally, though, you get something a bit leaden. Rapunzel gets a very ordinary updating in this Disney picture, raiding duller moments from the Shrek movies for ideas, and sporting a laboured selection of Broadway-style showtunes – signalling that someone, somewhere clearly wants to turn this into a lucrative global franchise on stage, maybe with a cast in each country culled from a selection of hopefuls competing in some reality TV show.

Read the Full Movie Review at Guardian.co.uk
Movie Review from TimeOut.com

The title hints at where this 3D Disney adaptation of the Rapunzel story is heading. Referring not just to our heroine's hairdo but to her complex personal life, it nods at the breezy, flippant, tween-friendly tone the film adopts. Erstwhile popstrel Mandy Moore voices Rapunzel, whose lonely existence imprisoned in a tall tower with only a cheeky chameleon for company is enlivened when she meets brash outlaw Flynn Rider (Zachary Levi), and sets out to discover her true identity.

Read the Full Movie Review at TimeOut.com
Movie Review from Movies.com

You'd think that for their 50th animated feature, Disney would have hauled out the big guns. Something spectacular. Instead they've given us yet another princess story calculated to revive the public's cash-dispensing interest in that kneaded-to-death formula. It takes forever to pick up steam and, if you're still with it by the time it does, you'll wonder why you just spent money to see the same old tale retold in exactly the same way it was sold to you before.

Read the Full Movie Review at Movies.com
---
'Tangled' Stars
Brad Garrett, Byron Howard, Donna Murphy, M.C. Gainey, Mandy Moore, Nathan Greno, Ron Perlman, Zachary Levi
---
'Tangled' Movie Links

Tangled on IMDb