---
The Amazing Spider-Man 2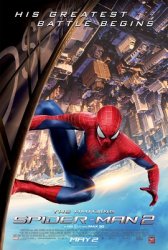 Starring: Andrew Garfield, Emma Stone, Jamie Foxx, Dane DeHaan, Campbell Scott
Director: Marc Webb
Release Date:

May 2nd, 2014
Release Date:

16th April, 2014
Running Time: 152 Mins
Synopsis: Peter Parker runs the gauntlet as the mysterious company Oscorp sends up a slew of supervillains against him, impacting on his life.
Status:
The Amazing Spider-Man 2 Movie Trailer
About the Movie
The Amazing Spider-Man 2 is an American superhero film featuring the Marvel Comics character Spider-Man, directed by Marc Webb and released by Columbia Pictures. It serves as a sequel to the 2012 film The Amazing Spider-Man and was announced in 2011. The studio hired James Vanderbilt to write the screenplay and Alex Kurtzman and Roberto Orci to re-write it. Andrew Garfield, Emma Stone, Jamie Foxx, Dane DeHaan, Campbell Scott, Embeth Davidtz, Colm Feore, Paul Giamatti and Sally Field are set to star.
---
'The Amazing Spider-Man 2' Stars
Andrew Garfield, Campbell Scott, Dane DeHaan, Emma Stone, Jamie Foxx, Marc Webb
---
'The Amazing Spider-Man 2' Movie Links

The Amazing Spider-Man 2 on IMDb


The Amazing Spider-Man 2 on Wikipedia