---
The Blind Side (2009)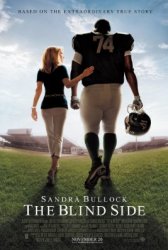 Starring: Sandra Bullock, Kathy Bates, Jennifer Rose Locke, Kim Dickens, Tim McGraw, Quinton Aaron, Rhoda Griffis
Director: John Lee Hancock
Release Date:

November 20th, 2009
Release Date:

26th March, 2010
Synopsis: The Blind Side is the remarkable true story of Michael Oher, a homeless African-American youngster from a broken home, taken in by the Touhys, a well-to-do white family who help him fulfill his potential. At the same time, Oher's presence in the Touhys' lives leads them to some insightful self-discoveries of their own. Living in his new environment, the teen faces a completely different set of challenges to overcome. As a football player and student, Oher works hard and, with the help of his coaches and adopted family, becomes an All-American offensive left tackle. In the latest chapter of his inspiring story, Oher was a First Round draft pick in the 2009 NFL Draft, selected by the Baltimore Ravens. The Touhys were there to share the moment with him. The movie also features appearances by several current and former NCAA coaches, including Phil Fulmer, Nick Saban, Lou Holtz and Tommy Tuberville.
Status:
The Blind Side Movie Trailer
About the Movie
The Blind Side is an upcoming 2009 film written and directed by John Lee Hancock, and based on the 2006 book The Blind Side: Evolution of a Game by Michael Lewis. The storyline features Michael Oher, an offensive lineman for the Baltimore Ravens NFL football team. The film follows Oher from his impoverished upbringings, through his years at Briarcrest Christian School, his adoption by Sean and Leigh Anne Tuohy, and on to his position as one of the most highly coveted prospects in college football.
The film stars Quinton Aaron as Michael Oher and Sandra Bullock and Tim McGraw as Leigh Anne and Sean Tuohy, Oher's adopted parents. Kathy Bates co-stars as Miss Sue, Oher's no-nonsense tutor. The movie also features appearances by several current and former NCAA coaches, including Phil Fulmer, Nick Saban, Lou Holtz and Tommy Tuberville.
The film was partially filmed at The Westminster Schools and Atlanta International School in Atlanta, Georgia, and features many of its students.
---
Movie Reviews
Movie Review from EmpireOnline.com

In the big blue shadow of Avatar, The Blind Side emerged as a minor phenom and hot-button talking-point at the end of last year. Confirming Bullock's golden year at the box office — at a time when adult dramas were belly-flopping, The Blind Side pulled in $241 million — yet drawing criticism as a reactionary version of Precious (white family rescue poor black kid who subsequently gets marginalised in his own story), the film is
a sugar-coated, efficient, entertaining mix of sports movie clichés, it's-hard-out-there-on-the-streets flashbacks and crusading-woman-takes-on-the-system drama.

Read the Full Movie Review at EmpireOnline.com
Movie Review from TotalFilm.com

Combining two of the biggest audience-pleasing genres, the inspirational true story and the underdog sports yarn, The Blind Side has a great deal in common with director John Lee Hancock's earlier baseball flick The Rookie.
Yet there's something else at work in this tale of a homeless black teenager adopted by a kindly white family who enable him to realise his potential as a college and NFL football star.

Read the Full Movie Review at TotalFilm.com
Movie Review from Hollywood.com

When one sees the trailer for this Sandra Bullock film, it's hard not to feel a bit cynical: Rich white woman adopts poor black kid out of the ghetto and teaches him self-confidence and how to take full advantage of having a good education, thus saving him from what seemingly would've been a short and wasted life. Indeed, it rings a bit offensive from the outside; however, execution is everything, and there's certainly more going on here that's worthwhile than first glimpses would indicate — albeit for a rather specific audience.

Read the Full Movie Review at Hollywood.com
Movie Review from TimeOut.com

It's a true story: rich southern white folks take in a black teenager, then help him towards college football and a big-time NFL contract. In the right hands, this could be about simple kindness overcoming mutual suspicion and bridging social divides – a story questioning an America where it takes such charity to effect genuine social mobility. This is certainly not that movie. Instead it resembles one of those formatted TV 'reality' shows where the top-billed female personality uses her bossy 'common sense' to tame recalcitrant kiddies/ animals so their parents/owners can be proud of them.

Read the Full Movie Review at TimeOut.com
Movie Review from Movies.com

This movie doesn't care if you think it's paternalistic or condescendingly racist or playing fast and loose with the facts as they actually happened. It doesn't care if you think it's gross when it trots out white people trying to bond with black people by giving them fist-bumps or singing along to "Bust a Move." The entire film is one long nervy, corny dare, absolutely confident in its own adorability, heartwarmth and ability to bodyslam the critical thinking skills of anyone who gets in its way. It's also from the director of The Rookie, so you're going to be crying by the end.

Read the Full Movie Review at Movies.com
---
'The Blind Side' Stars
Jennifer Rose Locke, John Lee Hancock, Kathy Bates, Kim Dickens, Quinton Aaron, Rhoda Griffis, Sandra Bullock, Tim McGraw
---
'The Blind Side' Movie Links

Official The Blind Side Movie Website


The Blind Side on IMDb