---
The Boy in the Striped Pyjamas (2008)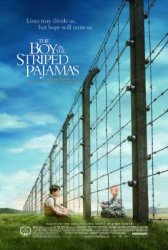 Starring: László Áron, Amber Beattie, Asa Butterfield, Attila Egyed, Vera Farmiga
Director: Mark Herman
Release Date:

November 7th, 2008
Release Date:

12th September, 2008
Synopsis: Through the lens of an eight-year-old boy largely shielded from the reality of World War II, we witness a forbidden friendship that forms between Bruno, the son of Nazi commandant, and Schmuel, a Jewish boy held captive in a concentration camp. Though the two are separated physically by a barbed wire fence, their lives become inescapably intertwined.
Status:
The Boy in the Striped Pyjamas Movie Trailer
About the Movie
The Boy in the Striped Pyjamas (The Boy in the Striped Pajamas in the United States) is a 2008 Tragic-Drama based on the novel of the same name by Irish writer John Boyne. Directed by Mark Herman and produced by David Heyman, it stars Asa Butterfield, Jack Scanlon, David Thewlis, and Vera Farmiga.
A Holocaust drama, the film explores the horror of a World War II extermination camp through the eyes of two eight year-old boys, one the son of the camp's Nazi commandant, the other a Jewish inmate.
---
Movie Reviews
Movie Review by TonyD
Score – 4 out of 4
The great thing about the internet is that you guys only read my work. No one really knows the true me. Not you, not you, and not you either. And for the select few that read my work and know me in person, you guys still don't know the real me. Everyone might know that I hate the shit out of "Twilight," but only a few people know that I cried during "Wall-E." Yes, it might seem like I'm impervious to tears through your computer screen, but if you budge, they would come.
"The Boy in the Striped Pyjamas" (not "Pajamas") was one of the movies this year that kept budging, but nothing came out. But then you leave the theater and the movie never leaves your head. It stays there and it uses your brain as its punching bag. I can say this with as straight of a face as possible – even though this film is about friendship, there is not a single happy moment in the film. I'm afraid that this is the "Children of Men" of the year. From the opening titles, you would think that all is well, but that is just a tease. Within these next ninety minutes, I was introduced to something that I never seen before of a tale that I've heard millions and millions of times in history.

Read the Full 'The Boy in the Striped Pyjamas' Movie Review at FilmArcade.net
Movie Review by Marty Meltz
Quality – 7 out of 10
Eerie.
Strangely foreboding, subliminally haunting.
"The Boy in the Striped Pajamas" presents itself as an 8-year-old boy's viewpoint, but the level of the story treatment is, a bit disconcertingly, that of an adult. Yet this very unusual Holocaust tale tenaciously holds to a slowly welling suspense. Much of that, quite obviously, is from the simple fact that we know where this is headed in its big story, if not in the plot's specific choice of direction. And that, please be warned, ends in a harshly depressing event, all the more shocking, and inappropriately abrupt, following the film's soft flow of narrative. Dialogue is deceptively quiet in key parts, yet it vibrates to an ominous beat.
The story opens during WWII in summertime Berlin (shot in Budapest) about 1942 (background note: after Hitler, in January at the Wannsee Conference, is presumed, to have given the order for "The Final Solution of the Jewish Problem," that is, extermination).
Berlin. The streets are light-hearted and happy with the citizens (non-Jewish, of course) in their strolls and in the parks merrily oblivious to the calamitous turn of the tide against their troops in Russia and to what is happening to Jews. A family celebrates the promotion of military officer Ralf (David Thewlis) to a new position. Untitled.
Ralf's 8-year-old son Bruno (Asa Butterfield) is unhappy about dad's taking them all away to a new residence out in the country. "It will only be until the war is won," he's told. Everybody else is happy about the move. That is, except Grandma. She is wary of Nazis, especially her son's promotion in the Party.
The family takes the train to a beautiful neo-Bauhaus home. It is surrounded by a wall, undefined in location. Their life there begins.
Grandma's apprehensions augment. She watches with a chill as her teenage daughter Gretel (Amber Beattie) is being Nazi brainwashed by the stern tutor, Herr Liszt (Jim Norton), who will advise, at one point later, that Jews are not really people. And there is her father's handsome officers aide for whom Gretel has a crush.
Almost equally unsettled is the mother (Vera Farmiga) who confronts her husband with his involvement in the nearby "farm" where the emaciated, brutally hard laboring "farmers" all wear striped pajamas, all confined behind electrified fences. This house in which the family now resides has its views blocked on the farm side.
Father counsels his son Bruno that his work is "for the good of the country" and he's "trying to make the world a better place." But meantime Grandma feels her family deteriorating hopelessly. Oveheard is a casual remark about what Auschwitz is all about.
One day, Bruno sneaks out and finds his way to the farm's wire fence. There, on the inside, he mets a boy his own age, gentle-natured Shmuel (Jack Scanlon). Wearing "pajamas. They relate and Bruno begins to gather, after much talk, just what is really going on here. That mysterious smoke, that odor in the air. And this, Bruno slowly realizes (unconvincingly slowly) is where his dad works.
But, he's told at home, the numbers on those pajamas are just part of a game. And that stink of foul-smelling smoke is merely trash burning.
Bruno is getting more and more suspicious of his dad.
Cannily, the characters are more distinctive than they should be. That is, there are stereotypes here, but the performances are so strong that they're transfused with red blood. Thewlis' Nazi officer, the kids' father, is many dimensioned, strictly disciplined in Nazi fantasy but also a weary man who often lets inner rage surface amidst his propaganda-spewing. The mother tries so very hard to be a solid German even as she is being saturated with doubts.
And the two boys, creepily relate to each other, one grounded in an insistent wonderment, the other with hidden fear. They are like two microcosms of their respective cultures, the one of a turn-the-other-way German population, the other of a child from eons of persecution.
One may be put off by the English accents throughout but the choice, on a film whose themes have a universality about them, is excusable.
This movie, as it's written, does not stand alone. It has to have, in its basic undercurrent, our common knowledge of the actuality of the Holocaust. Without that knowledge aforehand, if you viewed it as someone totally ignorant of that world-shocking event and just saw it as, well, a movie, it would move along at a pace not monotonous but certainly unspecial. You would be so startled by the ending that you would be offended by its emotional explosion out of the soft treatment leading up to it.
This is one of those films that just needs to be there. It needs no other justification.

Read More Movie Reviews at Marty at the Movies
---
'The Boy in the Striped Pyjamas' Stars
Amber Beattie, Asa Butterfield, Attila Egyed, László Áron, Mark Herman, Vera Farmiga
---
'The Boy in the Striped Pyjamas' Movie Links

Official The Boy in the Striped Pyjamas Movie Website


The Boy in the Striped Pyjamas on IMDb