---
The Final Destination (2009)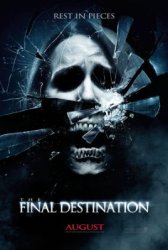 Starring: Krista Allen, Nick Zano, Mykelti Williamson, Bobby Campo, Shantel VanSanten, Stephanie Honore
Director: David R. Ellis
Release Date:

August 28th, 2009
Release Date:

28th August, 2009
Synopsis: In a car race in McKinley Speedway, the teenager Nick has a premonition of a deadly car crash with many casualties in the audience and convinces his girlfriend Lori and his friends Hunt and Janet to leave the place. They are followed by the security guard; a racist guy; a mother with her children and a mechanic, that are saved from death. When the racist guy and the mother die in mysterious and creepy incidents, Nick and Lori research and find many similar cases in Internet. They try to lure The Ripper to break the chain of deadly events and survive, but destiny does not help them.
Status:
The Final Destination Movie Trailer
About the Movie
The Final Destination is an upcoming 3-D supernatural thriller/horror film written by Eric Bress and directed by David R. Ellis, both of whom also worked on Final Destination 2. Set for an August 28, 2009 release, it is the fourth installment to the Final Destination film series, and the first of which to be shot in HD 3-D.
---
'The Final Destination' Stars
Bobby Campo, David R. Ellis, Krista Allen, Mykelti Williamson, Nick Zano, Shantel VanSanten, Stephanie Honore
---
'The Final Destination' Movie Links

The Final Destination on IMDb