---
The Fourth Kind (2009)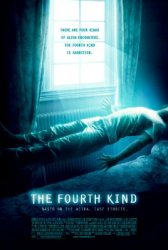 Starring: Milla Jovovich, Elias Koteas, Will Patton, Corey Johnson, Hakeem Kae-Kazim, Enzo Cilenti, Alisha Seaton
Director: Olatunde Osunsanmi
Release Date:

November 6th, 2009
Release Date:

6th November, 2010
Synopsis: Modern-day, Alaska, where-mysteriously since the 1960s-a disproportionate number of the population has been reported missing every year. Despite multiple FBI investigations of the region, the truth has never been discovered. Here in this remote region, psychologist Dr. Abigail Tyler began videotaping sessions with traumatized patients and unwittingly discovered some of the most disturbing evidence of alien abduction ever documented. The Fourth Kind exposes the terrified revelations of multiple witnesses. Their accounts of being visited by alien figures all share disturbingly identical details, the validity of which is investigated throughout the film.
Status:
The Fourth Kind Movie Trailer
About the Movie
The Fourth Kind is an upcoming film directed by Olatunde Osunsanmi, and starring Milla Jovovich. The movie is set in Nome, Alaska, and deals with alien abductions. The title comes from J. Allen Hynek's classification of close encounters with aliens, where the fourth kind denotes an alien abduction.
---
'The Fourth Kind' Stars
Alisha Seaton, Corey Johnson, Elias Koteas, Enzo Cilenti, Hakeem Kae-Kazim, Milla Jovovich, Olatunde Osunsanmi, Will Patton
---
'The Fourth Kind' Movie Links

Official The Fourth Kind Movie Website


The Fourth Kind on IMDb