---
The Girl Who Played with Fire (2009)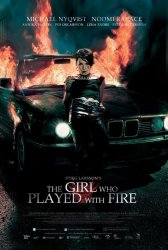 Starring: Michael Nyqvist, Noomi Rapace, Lena Endre, Peter Andersson, Michalis Koutsogiannakis, Annika Hallin
Director: Daniel Alfredson
Release Date:

July 9th, 2010
Release Date:

27th August, 2010
Synopsis: Mikael Blomkvist, publisher of Millennium magazine, has made his living exposing the crooked and corrupt practices of establishment Swedish figures. So when a young journalist approaches him with a meticulously researched thesis about sex trafficking in Sweden and those in high office who abuse underage girls, Blomkvist immediately throws himself into the investigation.
Status:
The Girl Who Played with Fire Movie Trailer
About the Movie
The Girl Who Played with Fire (Swedish: Flickan som lekte med elden) is a 2009 Swedish film directed by Daniel Alfredson. It is based on the bestselling novel of the same name by the late Swedish author and journalist Stieg Larsson, the second in his "Millennium Trilogy".
Lisbeth Salander returns to Sweden after spending a year abroad. Having returned, she falls under suspicion for having committed the murder of a journalist and his girlfriend as well as her guardian Nils Bjurman. Mikael Blomkvist has to do what he can to find her before the authorities do.
---
'The Girl Who Played with Fire' Stars
Annika Hallin, Daniel Alfredson, Lena Endre, Michael Nyqvist, Michalis Koutsogiannakis, Noomi Rapace, Peter Andersson
---
'The Girl Who Played with Fire' Movie Links

Official The Girl Who Played with Fire Movie Website


The Girl Who Played with Fire on IMDb