---
The Girl with the Dragon Tattoo (2009)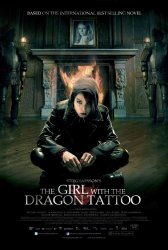 Starring: Michael Nyqvist, Noomi Rapace, Lena Endre, Peter Haber, Sven-Bertil Taube
Director: Niels Arden Oplev
Release Date:

March 19th, 2010
Release Date:

12th March, 2010
Synopsis: Forty years ago, Harriet Vanger disappeared from a family gathering on the island owned and inhabited by the powerful Vanger clan. Her body was never found, yet her uncle is convinced it was murder and that the killer is a member of his own tightly knit but dysfunctional family. He employs disgraced financial journalist Mikael Blomkvist and the tattooed, ruthless computer hacker Lisbeth Salander to investigate.
Status:
The Girl with the Dragon Tattoo Movie Trailer
About the Movie
The Girl with the Dragon Tattoo (Swedish: Män som hatar kvinnor, also known as Men Who Hate Women in English) is a 2009 Swedish film adaptation of the novel of the same name by the late Swedish author/journalist Stieg Larsson, the first book in his Millennium Trilogy, directed by Niels Arden Oplev. By August 2009, it had been sold to 25 countries outside Scandinavia, most of them planning a release in 2010, and had been seen by more than 6 million people in the countries where it was already released.
The film was released in the United States on March 19, 2010 by Music Box Films, which will also release the second and third films in the trilogy, The Girl Who Played with Fire and The Girl Who Kicked the Hornets' Nest, later in 2010.
---
Movie Reviews
Movie Review from EmpireOnline.com

It takes its time with the separate stories of the protagonists: Mikael (Michael Nyqvist), a long-serving social campaigner working for a radical magazine (Millennium), is forced to cut loose from his circle so as not to drag them down after he has lost a dodgy-seeming libel case; while Lisbeth (Noomi Rapace), on probation thanks to a backstory crucial to later stories, has to cope with a sexually abusive social worker and her own simmering rage as she is intrigued against her will by the fact that she sees through part of a puzzle that has resisted solution for decades.

Read the Full Movie Review at EmpireOnline.com
Movie Review from TotalFilm.com

Jet-black hair, spiked collar, enough piercings to make magnets hazardous to her bone structure… and beneath the surface, a cauldron of victimised anger, photographic memory and poor social skills.
As computer hacker Lisbeth in this superb Swedish thriller, Noomi Rapace is a vision of gothic torment: a star is bjorn.

Read the Full Movie Review at TotalFilm.com
Movie Review from Guardian.co.uk

This is part of the mega-selling Millennium Trilogy of gruesome crime novels by the late Swedish author Stieg Larsson. Originally (and pertinently) entitled Men Who Hate Women, this first story has now been adapted for the screen and finds its way to the UK having already become a European box office smash; the other two have also been filmed and their release here will presumably depend on how this is received. For what it's worth, I predict healthy returns. It is a forensic procedural with explicit violence, sex, sexual violence, violent sex and crime-scene photos of the sort that were once never shown, then just glimpsed and now blandly lingered over in every detail.

Read the Full Movie Review at Guardian.co.uk
Movie Review from TimeOut.com

The original title of the Stieg Larsson novel which became, in translation, 'The Girl with the Dragon Tattoo' was 'Men Who Hate Women': a blunt but fitting description of this angry, intelligent but curiously uninvolving Swedish shaggy dog story. The film sees down-at-heel, crusading journalist Mikael Blomkvist (Michael Nyqvist) hired by industrialist Henrik Vanger to look into the disappearance of his beloved niece more than 30 years before.

Read the Full Movie Review at TimeOut.com
Movie Review from Telegraph.co.uk

Oh Sweden! The crisp cheekbones of its citizenry, the avant knitwear designed by its fashionable youth, the gorgeous melancholy of its nouveau-Balearica bands, its passion for social democracy: it really is a wonderful country. And then there are its crime novelists. Henning Mankell, Hakan Nesser, Mari Jungstedt and, perhaps greatest of all (though he died at an early age in 2004), Stieg Larsson: these thriller writers offer stories stripped bare of cliches, in touch with a sadness as deep as icebergs, and that aren't afraid to tackle state-of-the-nation themes.

Read the Full Movie Review at Telegraph.co.uk
---
'The Girl with the Dragon Tattoo' Stars
Lena Endre, Michael Nyqvist, Niels Arden Oplev, Noomi Rapace, Peter Haber, Sven-Bertil Taube
---
'The Girl with the Dragon Tattoo' Movie Links

Official The Girl with the Dragon Tattoo Movie Website


The Girl with the Dragon Tattoo on IMDb