---
The Green Mile (1999)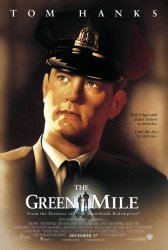 Starring: Tom Hanks, David Morse, Bonnie Hunt, Michael Clarke Duncan, James Cromwell, Michael Jeter, Graham Greene, Doug Hutchison, Sam Rockwell, Barry Pepper, Harry Dean Stanton
Director: Frank Darabont
Release Date:

December 10th, 1999
Release Date:

3rd March, 2000
Synopsis: Paul Edgecomb is a slightly cynical veteran prison guard on Death row in the 1930's. His faith, and sanity, deteriorated by watching men live and die, Edgecomb is about to have a complete turn around in attitude. Enter John Coffey, He's eight feet tall. He has hands the size of waffle irons. He's been accused of the murder of two children and he's afraid to sleep in a cell without a night-light. And Edgecomb, as well as the other prison guards – Brutus, a sympathetic guard, and Percy, a stuck up, perverse, and violent person, are in for a strange experience that involves intelligent mice, brutal executions, and the revelation about Coffey's innocence and his true identity.
Status:
The Green Mile Movie Trailer
About the Movie
The Green Mile is a 1999 American drama film directed by Frank Darabont and adapted by him from the 1996 Stephen King novel of the same name. The film stars Tom Hanks as Paul Edgecomb and Michael Clarke Duncan as John Coffey.
The film is primarily about Paul and his life as a corrections officer on Death Row in the 1930s. The movie is told in flashback by the protagonist in a nursing home and follows a string of supernatural events upon the arrival of John, a man convicted, but not guilty, of murder.
The film was nominated for four Academy Awards: Best Supporting Actor, Best Picture, Best Sound, and Best Adapted Screenplay.
---
'The Green Mile' Stars
Barry Pepper, Bonnie Hunt, David Morse, Doug Hutchison, Frank Darabont, Graham Greene, Harry Dean Stanton, James Cromwell, Michael Clarke Duncan, Michael Jeter, Sam Rockwell, Tom Hanks
---
'The Green Mile' Movie Links

Official The Green Mile Movie Website


The Green Mile on IMDb