---
The Shawshank Redemption (1994)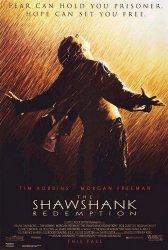 Starring: Tim Robbins, Morgan Freeman, Bob Gunton, William Sadler, Clancy Brown, Gil Bellows, James Whitmore
Director: Frank Darabont
Release Date:

September 23rd, 1994
Release Date:

17th February, 1995
Synopsis: After the murder of his wife, hotshot banker Andrew Dufresne is sent to Shawshank Prison, where the usual unpleasantness occurs. Over the years, he retains hope and eventually gains the respect of his fellow inmates, especially longtime convict "Red" Redding, a black marketeer, and becomes influential within the prison. Eventually, Andrew achieves his ends on his own terms.
Status:
The Shawshank Redemption Movie Trailer
About the Movie
The Shawshank Redemption is a 1994 American drama film written and directed by Frank Darabont, based on the Stephen King novella Rita Hayworth and Shawshank Redemption. The film stars Tim Robbins as Andrew "Andy" Dufresne and Morgan Freeman as Ellis Boyd "Red" Redding.
The film portrays Andy spending nearly two decades in Shawshank State Prison, a fictional penitentiary in Maine and his friendship with Red, a fellow inmate. Despite a lukewarm box office reception that was barely enough to cover its budget, the film received favorable reviews from critics and has since enjoyed a remarkable life on cable television, VHS, DVD, and Blu-ray. This revival is reflected in its high placement on various lists of great movies, and on the Internet Movie Database it contends with The Godfather for first place.
---
'The Shawshank Redemption' Stars
Bob Gunton, Clancy Brown, Frank Darabont, Gil Bellows, James Whitmore, Morgan Freeman, Tim Robbins, William Sadler
---
'The Shawshank Redemption' Movie Links

The Shawshank Redemption on IMDb