---
The Lord of the Rings: The Fellowship of the Ring (2001)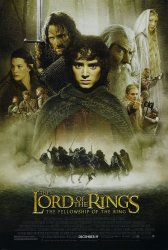 Starring: Elijah Wood, Ian McKellen, Liv Tyler, Viggo Mortensen, Sean Astin, Cate Blanchett, John Rhys-Davies, Billy Boyd, Dominic Monaghan, Orlando Bloom, Christopher Lee, Hugo Weaving, Sean Bean, Ian Holm, Andy Serkis
Director: Peter Jackson
Release Date:

December 19th, 2001
Release Date:

19th December, 2001
Synopsis: An ancient Ring thought lost for centuries has been found, and through a strange twist in fate has been given to a small Hobbit named Frodo. When Gandalf discovers the Ring is in fact the One Ring of the Dark Lord Sauron, Frodo must make an epic quest to the Cracks of Doom in order to destroy it. However he does not go alone. He is joined by Gandalf, Legolas the elf, Gimli the Dwarf, Aragorn, Boromir and his three Hobbit friends Merry, Pippin and Samwise. Through mountains, snow, darkness, forests, rivers and plains, facing evil and danger at every corner the Fellowship of the Ring must go. Their quest to destroy the One Ring is the only hope for the end of the Dark Lords reign.
Status:
The Lord of the Rings: The Fellowship of the Ring Movie Trailer
The Lord of the Rings: The Fellowship of the Ring Teaser Trailer
About the Movie
The Lord of the Rings: The Fellowship of the Ring is a 2001 fantasy adventure film directed by Peter Jackson based on the first volume of J. R. R. Tolkien's The Lord of the Rings trilogy (1954-55). Set in Middle-earth, the story tells of the Dark Lord Sauron, who is seeking the One Ring. The Ring has found its way to the young hobbit Frodo Baggins (Elijah Wood). The fate of Middle-earth hangs in the balance as Frodo and eight companions form the Fellowship of the Ring, and begin their journey to Mount Doom in the land of Mordor: the only place where the Ring can be destroyed.
Released on December 19, 2001, the film was highly acclaimed by critics and fans alike, especially as many of the latter judged it to be the most sufficiently faithful adaption of the original story out of Jackson's film trilogy. It was a major box office success, earning over $870 million worldwide, and the second highest grossing film of 2001 in the U.S. and worldwide (behind Harry Potter and the Philosopher's Stone) which made it the 5th highest grossing film ever at the time. Today it is the eighteenth highest-grossing worldwide film of all time. It won four Academy Awards and five BAFTAs, including Best Film and Best Director BAFTA awards. The Special Extended DVD Edition was released on November 12, 2002 and is now discontinued. In 2007, The Fellowship of the Ring was voted number 50 on the American Film Institute's list of 100 greatest American films. The AFI also voted it the second greatest fantasy film of all time during their AFI's 10 Top 10 special.
---
'The Lord of the Rings: The Fellowship of the Ring' Stars
Andy Serkis, Billy Boyd, Cate Blanchett, Christopher Lee, Dominic Monaghan, Elijah Wood, Hugo Weaving, Ian Holm, Ian McKellen, John Rhys-Davies, Liv Tyler, Orlando Bloom, Peter Jackson, Sean Astin, Sean Bean, Viggo Mortensen
---
'The Lord of the Rings: The Fellowship of the Ring' Movie Links

The Lord of the Rings: The Fellowship of the Ring on IMDb