---
The Lord of the Rings: The Two Towers (2002)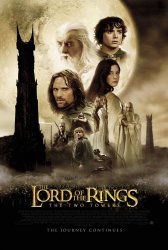 Starring: Elijah Wood, Ian McKellen, Liv Tyler, Viggo Mortensen, Sean Astin, Cate Blanchett, John Rhys-Davies, Bernard Hill, Christopher Lee, Billy Boyd, Dominic Monaghan, Orlando Bloom, Hugo Weaving, Miranda Otto, David Wenham, Brad Dourif, Sean Bean, Andy Serkis
Director: Peter Jackson
Release Date:

December 18th, 2002
Release Date:

18th December, 2002
Synopsis: Sauron's forces increase. His allies grow. The Ringwraiths return in an even more frightening form. Saruman's army of Uruk Hai is ready to launch an assault against Aragorn and the people of Rohan. Yet, the Fellowship is broken and Boromir is dead. For the little hope that is left, Frodo and Sam march on into Mordor, unprotected. A number of new allies join with Aragorn, Gimli, Legolas, Pippin and Merry. And they must defend Rohan and attack Isengard. Yet, while all this is going on, Sauron's troops mass toward the City of Gondor, for the War of the Ring is about to begin.
Status:
The Lord of the Rings: The Two Towers Movie Trailer
About the Movie
The Lord of the Rings: The Two Towers is a 2002 fantasy-adventure film directed by Peter Jackson based on the second volume of J. R. R. Tolkien's The Lord of the Rings. It is the second film in The Lord of the Rings film trilogy that was preceded by The Fellowship of the Ring (2001) and concluded with The Return of the King (2003).
Continuing the plot of The Fellowship of the Ring, it intercuts three storylines, as Frodo and Sam continue their quest to destroy the One Ring in Mordor and meet Gollum, its former owner. Aragorn, Legolas, and Gimli come across the war torn nation of Rohan as well as the resurrected Gandalf, before fighting at the Battle of Helm's Deep, whilst Merry and Pippin escape capture and meet Treebeard, the Ent and plan an attack on Isengard.
The movie was critically acclaimed, although the adaptation was more controversial than the first film. It was an enormous box-office success, earning over $900 million worldwide, outgrossing its predecessor, and is currently the 10th highest-grossing film of all time (inflation-adjusted, it is the 14th most successful film in North America). The Special Extended DVD Edition was released on November 19, 2003 and is now discontinued.
---
'The Lord of the Rings: The Two Towers' Stars
Andy Serkis, Bernard Hill, Billy Boyd, Brad Dourif, Cate Blanchett, Christopher Lee, David Wenham, Dominic Monaghan, Elijah Wood, Hugo Weaving, Ian McKellen, John Rhys-Davies, Liv Tyler, Miranda Otto, Orlando Bloom, Peter Jackson, Sean Astin, Sean Bean, Viggo Mortensen
---
'The Lord of the Rings: The Two Towers' Movie Links

The Lord of the Rings: The Two Towers on IMDb