---
The Lord of the Rings: The Return of the King (2003)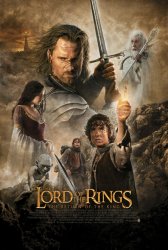 Starring: Elijah Wood, Ian McKellen, Liv Tyler, Viggo Mortensen, Sean Astin, Cate Blanchett, John Rhys-Davies, Bernard Hill, Christopher Lee, Billy Boyd, Dominic Monaghan, Orlando Bloom, Hugo Weaving, Miranda Otto, David Wenham, Karl Urban, Brad Dourif, John Noble, Ian Holm, Andy Serkis
Director: Peter Jackson
Release Date:

December 17th, 2003
Release Date:

17th December, 2003
Synopsis: Gondor is overrun by the orcs of Mordor, and Gandalf rides to Minas Tirith to aid the humans in the war that is ahead. Aragorn must realize his true identity and purpose as the King of Men, and journey with Gimli and Legolas to summon the Army of the Dead so that the battle against evil can be won. Meanwhile, paranoia and suspicion rises between Frodo, Sam and Gollum as they continue their increasingly dark and dangerous travel to Mount Doom, the one place where The Ring can be destroyed once and for all.
Status:
The Lord of the Rings: The Return of the King Movie Trailer
The Lord of the Rings: The Return of the King Teaser Trailer
About the Movie
The Lord of the Rings: The Return of the King is a 2003 fantasy-adventure film directed by Peter Jackson that is based on the second and third volumes of J. R. R. Tolkien's The Lord of the Rings. It is the concluding film in The Lord of the Rings film trilogy, following The Fellowship of the Ring (2001) and The Two Towers (2002).
As Sauron launches the final stages of his conquest of Middle-earth, Gandalf the Wizard, and Théoden King of Rohan rally their forces to help defend Gondor's capital Minas Tirith from the looming threat. Aragorn finally claims the throne of Gondor and summons an army of ghosts to help him defeat Sauron. Ultimately, even with full strength of arms, they realize they cannot win; so it comes down to the Hobbits, Frodo and Sam, to bear the burden of the Ring and deal with the treachery of Gollum. After a long journey they finally arrive in the dangerous lands of Mordor, seeking to destroy the One Ring in the place it was created, the volcanic fires of Mount Doom.
Released on December 17, 2003, The Lord of the Rings: The Return of the King became one of the greatest box-office successes of all time. It won all eleven Academy Awards for which it was nominated, which ties it with only Titanic and Ben-Hur for most Academy Awards ever won. However, it won 11 out of 11 Academy Awards when Ben-Hur won 11 out of 12, and Titanic won 11 out of 14. It also won the Academy Award for Best Picture, the only time in history a fantasy film has done so. It is the third highest-grossing film of all time worldwide, behind Avatar and Titanic, and it is the fiftieth most successful in North America once adjusted for inflation.
---
'The Lord of the Rings: The Return of the King' Stars
Andy Serkis, Bernard Hill, Billy Boyd, Brad Dourif, Cate Blanchett, Christopher Lee, David Wenham, Dominic Monaghan, Elijah Wood, Hugo Weaving, Ian Holm, Ian McKellen, John Noble, John Rhys-Davies, Karl Urban, Liv Tyler, Miranda Otto, Orlando Bloom, Peter Jackson, Sean Astin, Viggo Mortensen
---
'The Lord of the Rings: The Return of the King' Movie Links

Official The Lord of the Rings: The Return of the King Movie Website


The Lord of the Rings: The Return of the King on IMDb