---
The Switch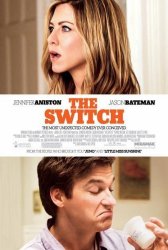 Starring: Jason Bateman, Victor Pagan, Jennifer Aniston, Jeff Goldblum, Juliette Lewis, Todd Louiso
Director: Josh Gordon, Will Speck
Release Date:

August 20th, 2010
Release Date:

1st September, 2010
Synopsis: An unmarried 40-year-old woman turns to a turkey baster in order to become pregnant. Seven years later, she reunites with her best friend, who has been living with a secret: he replaced her preferred sperm sample with his own.
Status:
About the Movie
The Switch, formerly titled The Baster, is an upcoming romantic comedy-drama film starring Jennifer Aniston and Jason Bateman. Will Speck and Josh Gordon (Blades of Glory) directed the comedy off of the screenplay written by Allan Loeb. The film is based on the short story "Baster" by Jeffrey Eugenides. Filming began in March 2009 and ended in May 2009. Re-shoots took place in October 2009. It is scheduled for an August 20, 2010 release date. The first film from the relaunched Miramax Films now owned by Filmyard Holdings, LLC.
---
Movie Reviews
Movie Review from EmpireOnline.com

Following on from the Back-Up Plan, this year's second artificial insemination comedy (come up with another one, Hollywood, and we have a trend) focuses on Jason Bateman's Wally, who drunkenly replaces Roland's (Patrick Wilson) sperm meant for Kassie (Jennifer Aniston) with his own.
Interestingly, the focus stays on the male perspective as the bulk of the movie takes place seven years later, with Wally trying to connect with the resulting son while coping with his long-held feelings for Kassie, who doesn't know the child is his.

Read the Full Movie Review at EmpireOnline.com
Movie Review from TotalFilm.com

Formerly known as The Baster, this was originally set to go up against that other sperm-donor comedy, The Back-Up Plan.
It's the stronger of the two, a giggle that plays like the love-child of About A Boy and When Harry Met Sally, although not as sharp as either.
Jennifer Aniston is a 40-year-old singleton who decides not to wait for Mr Right to have a baby. Her best mate (Jason Bateman) thinks she's nuts but in traditional knockabout fashion somehow winds up The Inseminator.

Read the Full Movie Review at TotalFilm.com
Movie Review from Hollywood.com

The Switch is being touted for its on-screen pairing of "longtime friends" Jason Bateman and Jennifer Aniston. Which is odd, because I found their scenes together in Josh Gordon and Will Speck's romantic comedy, about a 40-year-old single woman who sires a son artificialy with sperm that, unbeknownst to her, came from the loins her best friend, to be its weakest aspect. Bateman, whose improvisational wit is widely heralded, appears tentative and deferential in the presence of Aniston, as if he's wary of going all-out for fear of eclipsing his co-star, who also happens to be an executive producer on the film.

Read the Full Movie Review at Hollywood.com
Movie Review from Guardian.co.uk

Loosely based on a 1996 short story by Jeffrey Eugenides, The Switch is a romantic comedy with an interesting and ingenious high concept, initially pursued with verve, but let down by inconsistent characterisation and finally ending in gloopy sentimentality and silliness. Jennifer Aniston plays Kassie, a woman who is going to have a baby using her own form of artificial insemination; she has persuaded a handsome, married acquaintance Roland (Patrick Wilson) to donate sperm, and hosts a bizarre "fertility" party to inaugurate the event.

Read the Full Movie Review at Guardian.co.uk
Movie Review from TimeOut.com

She's 40, broody and single, so TV production assistant Jennifer Aniston decides to have a child via a sperm donor. As the title pretty much gives away, complications with two different helpings of man-seed lie ahead. But what the title and marketing don't tell you is that Aniston is essentially a secondary character. The focus is actually on her unattached best friend Jason Bateman's discovery that he may not be much of a lover but he's a great father. Curiously, he comes on like a latterday Tony Randall, a charming neurotic seemingly at the closeted end of the asexual spectrum. Bateman's performance – as a broker shedding his anxious reserve when it's his turn to look after Aniston's melancholy little boy (Thomas Robinson, a real discovery) – is funny, touching and observed in micro-detail throughout.

Read the Full Movie Review at TimeOut.com
Movie Review from Movies.com

There's not enough RU-486 in the world to make this movie stop existing and no such thing as a time machine to bring me back two weeks before it bored me senseless for a hundred minutes, but it will, at least, make someone happy and that someone is Bill O'Reilly. He recently complained about Aniston–of all people, like she wrote and directed the thing–and how, by playing an intentional single mother, she was negatively influencing people of the world to go out and be single parents.

Read the Full Movie Review at Movies.com
Movie Review from Telegraph.co.uk

Romantic comedies starring Jennifer Aniston seem to arrive as often as buses, and usually they're events to avoid. Given Hollywood's tendency to place large, charmless blocks of wood beside Aniston and call them leading men (Gerard Butler, Vince Vaughn), that's no surprise. Yet she responds to the right foil: she and Paul Rudd were terrific together in The Object of My Affection, sometime last century.
In The Switch, it's finally happened again. Jason Bateman, funny, charming and quick with repartee, acquits himself splendidly. It's the rest of the film that's the problem.

Read the Full Movie Review at Telegraph.co.uk
---
'The Switch' Stars
Jason Bateman, Jeff Goldblum, Jennifer Aniston, Josh Gordon, Juliette Lewis, Todd Louiso, Victor Pagan, Will Speck
---
'The Switch' Movie Links

Official The Switch Movie Website


The Switch on IMDb