---
Extract (2009)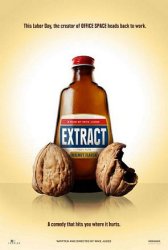 Starring: Mila Kunis, Ben Affleck, Jason Bateman, J.K. Simmons, Clifton Collins Jr., Kristen Wiig, Dustin Milligan
Director: Mike Judge
Release Date:

September 4th, 2009
Release Date:

26th March, 2010
Synopsis: Joel, the owner of an Extract plant, tries to contend with myriad personal and professional problems, such as his potentially unfaithful wife and employees who want to take advantage of him.
Status:
About the Movie
Extract is an upcoming comedy film written and directed by Mike Judge and starring Jason Bateman, Mila Kunis, J.K. Simmons, and Ben Affleck. This film is scheduled to have a limited release on September 4, 2009 followed by a wide release on September 11, 2009.
---
Movie Reviews
Movie Review from EmpireOnline.com

Swapping the white collar of Office Space for the blue collar of a flavour- extract plant, Mike Judge is on broader, less satirical, but still solidly entertaining form. The ever-dependable Jason Bateman is the owner who has problems in the factory (a lawsuit on the back of a freak testicle accident), the bedroom (wife Kristen Wiig is no longer putting out) and the driveway (dullard neighbour David Koechner accosts him at every turn), so seeks respite by pursuing sexy con chick Mila Kunis.

Read the Full Movie Review at EmpireOnline.com
Movie Review from TotalFilm.com

Shifting focus from disenchanted wage slaves to harassed middle-management, Mike Judge's follow-up to seminal 1999 comedy Office Space (by way of satirical misstep Idiocracy) represents a mellower take on workplace relations from the Beavis And Butt-Head bloke.
It's unlikely, then, to foster the same cultish affection as its predecessor. Still, there's fun to be had watching sex-starved factory boss Joel Reynolds (Jason Bateman) trying to juggle his professional and personal woes.

Read the Full Movie Review at TotalFilm.com
Movie Review from Hollywood.com

Scattered throughout Extract are the seeds of a really clever comedy on par with — or even surpassing — the venerable Office Space. The cast is certainly terrific: Bateman is the perfect choice for the beleaguered, cynical yet well-meaning Joel; the always great J.K. Simmons (Burn After Reading) makes a fine counterpoint as his blunt, no-nonsense second-in-command; Kunis is a superb comic femme fatale as a manipulative con artist at the heart of the pivotal lawsuit; legendary KISS frontman Gene Simmons is an inspired choice to play a shady, ambulance-chasing attorney — an occupation he no doubt would have chosen had he not gotten into rock and roll.

Read the Full Movie Review at Hollywood.com
Movie Review from Movies.com

You could call it the sweet ending of a Stupidity Trilogy, one that began with the disgruntled Office Space and continued through the slash-and-burn Idiocracy, finally winding up in a place where people are generally forgiven for all their dumb sins. It's got less deadpan bite than the first movie and it's less furiously indignant than the second, but it's also the most warm and human. I know that last bit sounds like the enemy of comedy, and it is, but it mostly avoids sinking down into the gooey sludge too much.

Read the Full Movie Review at Movies.com
---
'Extract' Stars
Ben Affleck, Clifton Collins Jr., Dustin Milligan, J.K. Simmons, Jason Bateman, Kristen Wiig, Mike Judge, Mila Kunis
---
'Extract' Movie Links

Official Extract Movie Website


Extract on IMDb