---
The Taking of Pelham 1 2 3 (2009)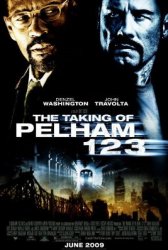 Starring: Denzel Washington, John Travolta, John Turturro, James Gandolfini, Luis Guzmán, Jason Butler Harner
Director: Tony Scott
Release Date:

June 12th, 2009
Release Date:

31st July, 2009
Synopsis: In early afternoon, four armed men hijack a subway train in Manhattan. They stop on a slight incline, decoupling the first car to let the rest of the train coast back. Their leader is Ryder; he connects by phone with Walter Garber, the dispatcher watching that line. Garber is a supervisor temporarily demoted while being investigated for bribery. Ryder demands $10 million within an hour, or he'll start shooting hostages. He'll deal only with Garber. The mayor okays the payoff, the news of the hostage situation sends the stock market tumbling, and it's unclear what Ryder really wants or if Garber is part of the deal.
Status:
The Taking of Pelham 1 2 3 Movie Trailer
About the Movie
The Taking of Pelham 1 2 3 is an upcoming American action film written by Brian Helgeland and directed by Tony Scott. The film is a remake of the original 1974 film of the same name, which is based on the thriller novel by Morton Freedgood. Production of the remake began in March 2008, and the film is slated for release on June 12, 2009.
Columbia Pictures and Metro-Goldwyn-Mayer (which owns the original film) are co-distributing the film, this being a result of Columbia parent Sony owning a stake in MGM since 2005.
---
'The Taking of Pelham 1 2 3' Stars
Denzel Washington, James Gandolfini, Jason Butler Harner, John Travolta, John Turturro, Luis Guzmán, Tony Scott
---
'The Taking of Pelham 1 2 3' Movie Links

Official The Taking of Pelham 1 2 3 Movie Website


The Taking of Pelham 1 2 3 on IMDb