---
Bonded by Blood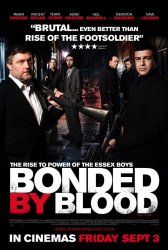 Starring: Dave Legeno, Vincent Regan, Tamer Hassan, Adam Deacon, Terry Stone, Neil Maskell
Director: Sacha Bennett
Release Date:

3rd September, 2010
Synopsis: In 1995, drug suppliers and career criminals Tony Tucker, Patrick Tate and Craig Rolfe were blasted to death by a shot gun whilst waiting in a Range Rover in Rettendon, Essex. The film charts their rise to become the most prolific dealers and feared criminals in the south of England, maintaining the hold on their empire with fear and violence until their untimely death.
Status:
Bonded by Blood Movie Trailer
About the Movie
Bonded by Blood is an upcoming 2010 film directed by Sacha Bennett.
---
Movie Reviews
Movie Review from EmpireOnline.com

Reviewing Essex Boys ten years ago, Empire suggested that the true story of 1995's notorious Rettendon 'Range Rover' murders would have made a better movie, and so it proves. Only those involved — three of them dead, two others in jail, protesting their innocence — know for sure whether this version, based on former Essex Boys gang member Bernard O'Mahoney's bestselling account, is any more truthful, but no matter: it's a well played, decently made story about mid-'90s drug dealers, irredeemable hoodlums who mostly get what they deserve… Yet one can't escape the nagging suspicion that, for the audience it's aimed at, the drugs-and-dollybirds lifestyle on display is aspirational.

Read the Full Movie Review at EmpireOnline.com
Movie Review from TotalFilm.com

Despite compelling true-life foundations, Sacha Bennett's re-telling of the 1995 Rettendon murders (in which three Essex drug lords were gunned down in a parked car) remains sub-par Brit-crime fare.
Everything from script to performances goes through the motions, with only Vincent Regan's Mickey registering in more than one dimension.
What really rankles is the failure to follow through on the title – far from a tight-knit group whose betrayals might have some emotional heft, these blokes don't seem bonded by anything much besides their mutual love of dropping f-bombs.

Read the Full Movie Review at TotalFilm.com
---
'Bonded by Blood' Stars
Adam Deacon, Dave Legeno, Neil Maskell, Sacha Bennett, Tamer Hassan, Terry Stone, Vincent Regan
---
'Bonded by Blood' Movie Links

Official Bonded by Blood Movie Website


Bonded by Blood on IMDb