---
Equilibrium (2002)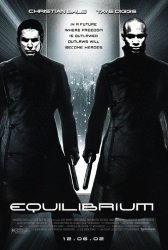 Starring: Christian Bale, Emily Watson, Taye Diggs, Angus Macfadyen, Sean Bean, Sean Pertwee, William Fichtner
Director: Kurt Wimmer
Release Date:

December 6th, 2002
Release Date:

14th March, 2003
Synopsis: In a futuristic world, a strict regime has eliminated war by suppressing emotions: books, art and music are strictly forbidden and feeling is a crime punishable by death. Cleric John Preston is a top ranking government agent responsible for destroying those who resist the rules. When he misses a dose of Prozium, a mind-altering drug that hinders emotion, Preston, who has been trained to enforce the strict laws of the new regime, suddenly becomes the only person capable of overthrowing it.
Status:
Equilibrium Movie Trailer
About the Movie
Equilibrium is a 2002 science fiction/action film written and directed by Kurt Wimmer. It stars Christian Bale as John Preston, a high-ranking enforcement officer in a future dystopia in which all forms of emotional expression are illegal, and citizens are forced to take daily injections of drugs to suppress their emotions. After accidentally missing one such injection Preston begins to experience emotion; he begins to question his own morality and to moderate his actions, while attempting to remain undetected by the suspicious society in which he lives. Ultimately he is compelled to aid a resistance movement in the overthrow of the regime, using combat skills gained as a law-enforcement officer.
The film co-stars Taye Diggs, Angus MacFadyen, Sean Pertwee, Emily Watson, David Hemmings and Sean Bean.
---
'Equilibrium' Stars
Angus Macfadyen, Christian Bale, Emily Watson, Kurt Wimmer, Sean Bean, Sean Pertwee, Taye Diggs, William Fichtner
---
'Equilibrium' Movie Links

Equilibrium on IMDb