---
The Deer Hunter (1978)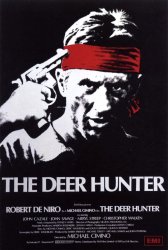 Starring: Robert De Niro, John Cazale, John Savage, Christopher Walken, Meryl Streep
Director: Michael Cimino
Release Date:

December 8th, 1978
Release Date:

27th February, 1979
Synopsis: Michael, Steven and Nick are young factory workers from Pennsylvania who enlist into the Army to fight in Vietnam. Before they go, Steven marries the pregnant Angela and their wedding-party is also the men's farewell party. After some time and many horrors the three friends fall in the hands of the Vietcong and are brought to a prison camp in which they are forced to play Russian roulette against each other. Michael makes it possible for them to escape, but they soon get separated again.
Status:
The Deer Hunter Movie Trailer
About the Movie
The Deer Hunter is a 1978 American war drama film co-written and directed by Michael Cimino about a trio of Russian American steel worker friends and their infantry service in the Vietnam War. It is loosely inspired by the German novel Three Comrades (1937), by World War I veteran Erich Maria Remarque, the author of All Quiet on the Western Front, which follows the lives of a trio of German World War I veterans in 1920s Weimar Germany. Like the novel, The Deer Hunter meditates and explores the moral and mental consequences of war violence and politically manipulated patriotism upon the meaning of friendship, honor, and family in a tightly knit community and deals with controversial issues such as suicide, posttraumatic stress disorder, infidelity and mental illness. The film won five Academy Awards, including Best Picture and Best Director.
The film stars Robert De Niro, Christopher Walken, Meryl Streep, John Savage, John Cazale, George Dzundza and Chuck Aspegren. The story takes place in Clairton, a small working class town on the Monongahela River south of Pittsburgh and then in Vietnam, somewhere in woodland and in Saigon, during the Vietnam War. It was filmed in the Pittsburgh metro area; Cleveland and Mingo Junction, Ohio; Weirton, West Virginia; the North Cascades National Park in Washington state, the Patpong district of Bangkok in Thailand (imitating the Saigon red-light district), and Sai Yok, Kanchanaburi Province (also in Thailand).
---
'The Deer Hunter' Stars
Christopher Walken, John Cazale, John Savage, Meryl Streep, Michael Cimino, Robert De Niro
---
'The Deer Hunter' Movie Links

The Deer Hunter on IMDb