---
Titanic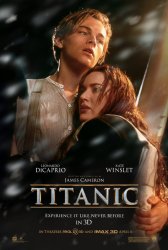 Starring: Leonardo DiCaprio, Kate Winslet, Billy Zane, Kathy Bates, Frances Fisher, Gloria Stuart, Bill Paxton, Bernard Hill, David Warner
Director: James Cameron
Release Date:

April 4th, 2012
Release Date:

6th April, 2012
Running Time: 194 Mins
Synopsis: A 100-year-old woman named Rose DeWitt Bukater tells the story to her granddaughter about her life set in April 10th 1912, on a ship called Titanic. Young Rose boards the departing ship with the upper-class passengers with her mother and fiancé. Meanwhile, a drifter and artist named Jack Dawson wins a third-class ticket to the ship in a game.
Status:
titlexxx - Titanic Movie Trailer
About the Movie
Titanic is a 1997 American epic romance and disaster film directed, written, co-produced, and co-edited by James Cameron. A fictionalized account of the sinking of the RMS Titanic, it stars Leonardo DiCaprio as Jack Dawson, Kate Winslet as Rose DeWitt Bukater, Gloria Stuart as Old Rose, and Billy Zane as Rose's fiancé, Cal Hockley. Jack and Rose are members of different social classes who fall in love aboard the ship during its ill-fated maiden voyage.
---
'Titanic' Stars
Bernard Hill, Bill Paxton, Billy Zane, David Warner, Frances Fisher, Gloria Stuart, James Cameron, Kate Winslet, Kathy Bates, Leonardo DiCaprio
---
'Titanic' Movie Links

Titanic on IMDb


Titanic on Wikipedia